The UK is lobbying Brussels over a Brexit trade deal deadline which could pose an "existential threat" to the British automotive industry, putting thousands of jobs at risk.
Business and Trade Secretary Kemi Badenoch and UK officials have raised the issue with counterparts in Brussels ahead of a looming cliff edge when new rules covering electric vehicles (EVs) come into effect at the start of 2024.
Vauxhall's parent company Stellantis told MPs it will be unable to keep a commitment to make EVs in the UK without changes to the Trade and Co-operation Agreement (TCA) with the European Union.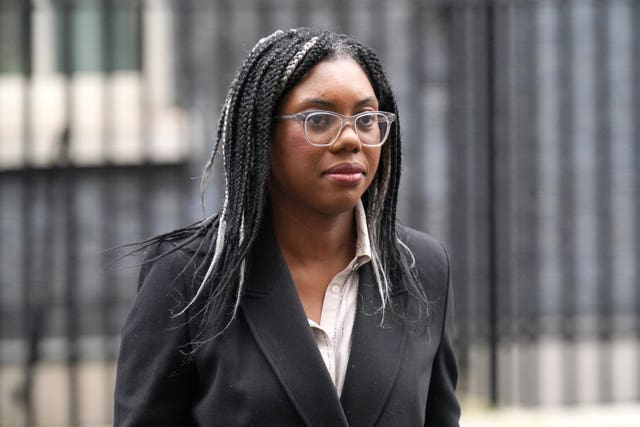 Without meeting the requirements, cars manufactured in the UK would face a 10% tariff if sold in the EU – and vice versa – rendering them uncompetitive.
A Downing Street spokesman said "we hope to come to a resolution with the EU on this" but would not confirm whether talks were aimed at pushing back the deadline.
"We recognise that for a number of reasons raw material costs for manufacturers have spiked since we signed the TCA," the spokesman said.
"I believe European carmakers' body the ACEA has said themselves that the European battery industry has simply not taken off quick enough to keep in line with the more restrictive rules that are due to come into place.
"That's why the Business Secretary has raised this already with the European Commission. It's been raised at official level as well and we hope to come to a resolution with the EU on this."
Asked whether the January 2024 increase in the locally sourced requirement from 40% to 45% could be pushed back, he said: "We're looking to what solutions we can put in place to a problem that we know exists, I'm not going to get ahead of the conversations we're having with the EU."
Chancellor Jeremy Hunt told the British Chambers of Commerce conference there was global pressure on the supply of batteries for electric vehicles but hinted at further announcements on UK capacity.
"All I would say is watch this space because we are very focused on making sure the UK gets that EV manufacturing capacity," he said.
Stellantis – which also owns Citroen, Peugeot and Fiat – employs more than 5,000 people in the UK.
The world's fourth biggest car maker committed to making electric vehicles at its Ellesmere Port and Luton plants two years ago.
Ms Badenoch met Stellantis bosses for pre-arranged talks on Wednesday amid concerns about the wider impact of the rules-of-origin restrictions.
Mike Hawes, chief executive of industry body the Society of Motor Manufacturers and Traders, said: "The rules of origin for batteries pose a significant challenge to manufacturers on both sides of the Channel, with the prospect of tariffs and price increases which discourage consumers from buying the very vehicles needed to achieve climate-change goals.
"At a time when every country is accelerating their transition to zero-emission transport – and global competitors are offering billions to attract investment in their industries – a pragmatic solution must be found quickly."
Professor David Bailey, from Birmingham Business School, said without UK manufacturing of EV batteries "I think there is a kind of existential threat to the UK car industry".
He told BBC Radio 4's Today programme:  "Car makers have been saying for some time, they can't meet those rules as they tighten up, and they're going to potentially be facing tariffs."
In its submission to the Commons Business and Trade Committee, Stellantis said the Brexit deal was a "threat to our export business and the sustainability of our UK manufacturing operations".
It called on the Government to reach agreement with the EU to maintain existing rules until 2027, rather than introduce next year's planned changes.
Stellantis said the rise in the cost of raw materials during the pandemic and energy crisis meant it was "unable to meet these rules of origin".
The company said that 10% tariffs would mean manufacturers "will not continue to invest" and would relocate.
The terms of the deal on electric cars and batteries were among the final parts of the Brexit agreement thrashed out between then-prime minister Boris Johnson and president of the European Commission Ursula von der Leyen in 2020.
Ellesmere Port's Labour MP Justin Madders said: "It has been made repeatedly clear that without changes to the future trading arrangements and without a proper industrial strategy, the UK car industry is at risk."
Sharon Graham, general secretary of the Unite union, said: "The Government has been warned for over a decade that it needed to invest in battery factories to ensure the smooth transition to electric vehicle production in the UK but it has failed to act."
Shadow business secretary Jonathan Reynolds said manufacturers had been let down by a "Government in chaos".
He said: "This is an indictment of a Government that has both failed to make Brexit work for businesses and is unable to harness the opportunities of the green transition."