A fire has broken out on a ferry in the southern Philippines and raged overnight for eight hours, killing at least 31 passengers and crew, officials said.
Many of the more than 200 people who survived the blaze jumped off the MV Lady Mary Joy 3 and were rescued from the dark sea by the coastguard, navy, a nearby ferry and local fishermen, said governor Jim Hataman of the southern island province of Basilan.
Rescuers are still searching for at least seven missing people, he added.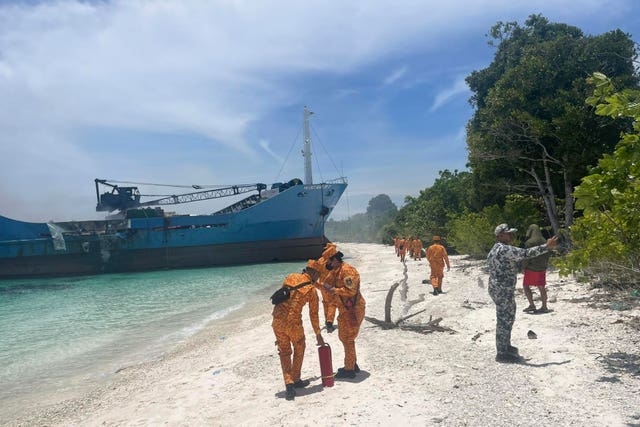 "These victims perished on board due to the fire," he said, adding that more people may have been on the ferry who were not listed on its manifest.
The ferry's skipper told coastguard officials that he tried to run the burning ferry aground on the nearest shore to allow more people to survive or be rescued, regional coastguard commander Rejard Marfe said.
The ferry was traveling to Jolo town in Sulu province from the southern port city of Zamboanga when it caught fire off Basilan close to midnight, Mr Hataman said.
At least 23 passengers were injured and taken to hospital.
"Some of the passengers were roused from their sleep due to the commotion caused by the fire. Some jumped off the ship," Mr Hataman said.
It had a security contingent consisting of four coastguard marshals and an unspecified number of soldiers who were not listed on the manifest for their protection, Mr Marfe said.
He added that officials are investigating whether the 33-year-old ferry was seaworthy, if there were passengers not listed on the manifest, and whether the crew properly guided passengers to safety.
Sea accidents are common in the Philippines because of frequent storms, badly maintained vessels, overcrowding and patchy enforcement of safety regulations, especially in remote provinces.
In December 1987, the ferry Dona Paz sank after colliding with a fuel tanker, killing more than 4,300 people in the world's worst peacetime maritime disaster.