Former premiers have warned Rishi Sunak about "delivering a mutilated HS2" after his Conservative Government refused to deny it was considering axing the Manchester leg.
Boris Johnson said suggestions the Birmingham to Manchester route could be chopped over cost concerns were "desperate" and "Treasury-driven nonsense" as he urged the Prime Minister to deliver on the 2019 levelling-up pledge the Conservatives were elected on.
David Cameron has also privately raised significant concerns about the prospect that the high-speed rail line could be heavily altered, according to The Times.
An ally quoted by the newspaper said it was "unusual" for the former prime minister, who resigned after the Brexit referendum result in 2016, to intervene in politics but felt HS2 was "different".
The show of Tory lobbying comes after George Osborne, who was chancellor during Mr Cameron's premiership, pushed for the infrastructure project to reach the North West.
He told the Political Currency podcast, which he co-hosts with former Labour minister Ed Balls, that scrapping it would be the "easy thing" to do in the face of opposition, which includes some Tory MPs who have called for the whole line to be junked.
The Government's infrastructure tsar warned that cancelling the Manchester leg would be a "tragedy" and send an international message that the UK was no longer a place to invest in major projects.
National Infrastructure Commission chairman Sir John Armitt acknowledged the need to control costs but told BBC Radio 4's Today: "If we don't continue, what are we saying to the rest of the world?
"What are we saying to all those investors that we want to bring into the UK? Here's a country which sets itself ambitions and then runs away when it starts to see some some challenges. We have to meet the challenges."
Ministers have looked to sidestep questions about the future of the Manchester destination this week and Chancellor Jeremy Hunt said on Thursday that HS2's budget was "getting totally out of control".
Mr Sunak has refused to guarantee it will reach Manchester despite £2.3 billion having already been ploughed into stage two of the national line.
A photograph of a leaked document, published by The Independent, suggested curtailing the route could save £35 billion.
A budget of £55.7 billion for the whole of HS2 was set in 2015 but some reports suggest the bill has surpassed £100 billion, having been driven up by recent inflation.
Ministers have already moved to pause parts of the project and even axed sections in the north.
The eastern leg between Birmingham and Leeds was reduced to a spur line which is due to end in the East Midlands.
It was confirmed in March that construction between Birmingham and Crewe would be delayed by two years and that services may not enter central London until the 2040s.
Transport Secretary Mark Harper announced that work at Euston would be paused for two years as costs were forecast to almost double to £4.8 billion.
Work is well underway on creating the track between the capital and the Midlands as part of phase one.
There have been suggestions that, in a cost-cutting drive, the Euston terminus could be shelved permanently, a proposition Mr Johnson said "makes no sense".
Mr Johnson, who won a landslide general election for the Tories four years ago, said: "This is total Treasury driven nonsense. It makes no sense at all to deliver a mutilated HS2.
"We need to connect the Midlands with the North with HS2 because that is the way to deliver Northern Powerhouse Rail.
"It is the height of insanity to announce all this just before a party conference in Manchester.
"It is no wonder that Chinese universities teach the constant cancellation of UK infrastructure as an example of what is wrong with democracy.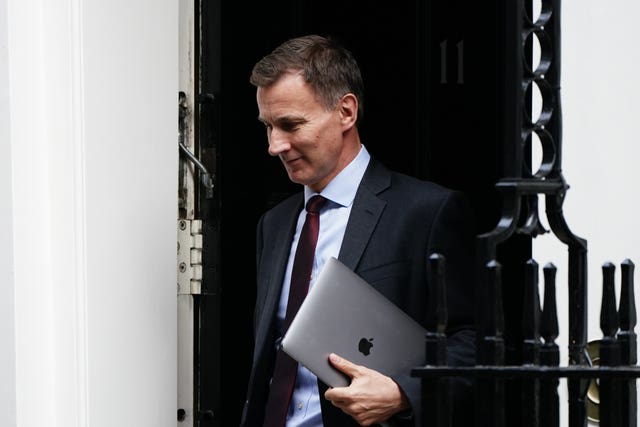 "These desperate truncations won't even yield any short term savings and make no difference to the case for tax cuts."
A Government spokeswoman said: "The HS2 project is already well underway with spades in the ground, and our focus remains on delivering it."
Mr Cameron has been contacted for comment.
Labour says it is committed to building HS2 in full but party leader Sir Keir Starmer has appeared reluctant to declare that, if elected to No 10 at the next election, he would ensure it reaches Manchester.
Sir Keir told PA on Friday that he still supports the project and blames the Government for introducing the "uncertainty" over its future as ministers consider the move to save billions.
Labour sources have been making clear they do not want to go further than ministers by promising to complete the project, because they may then need to find additional funding.
Tracy Brabin, the Labour mayor of West Yorkshire, said HS2 should link the "three great cities" of Leeds, Manchester and Birmingham.
She said: "Scrapping the project in the North of England will damage jobs, investment and the economy. Leaving plans to level up in tatters."