England completed the Grand Slam with a 38-33 victory over France but were saved by the bell in front of a world-record 58,498 crowd at Twickenham.
Initially rising to the occasion of setting a new highest attendance for the women's game, surpassing the 42,579 seen for last autumn's World Cup final in Auckland, the Red Roses ran amok to build a 33-0 interval lead.
A fifth successive TikTok Women's Six Nations looked certain but France were reborn for a second half they dominated 33-5 only to run out of time as England collapsed in dramatic fashion.
It remained a triumphant send-off for outgoing England head coach Simon Middleton with the strongest rivalry in the Championship producing another compelling instalment.
France were the last side to beat England in the Six Nations five years ago and they started the game like they finished it, although without the rewards.
It took resolute defending including an important penalty won on the ground by Hannah Botterman to deny them early on, but the pressure was halted when England pounced against the run of play.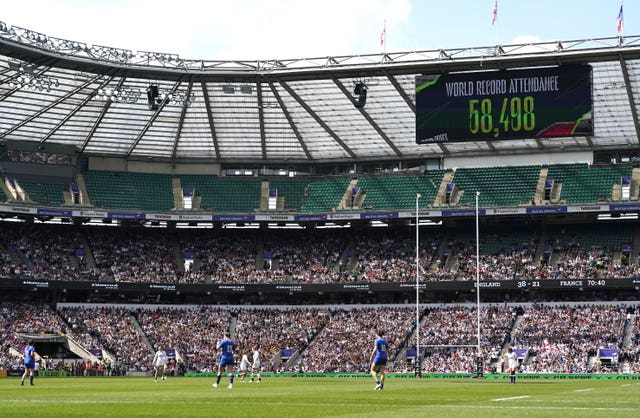 Rowland's centre partner Tatyana Heard was the next to swat away blue shirts and when she was eventually halted, Marlie Packer used her strength to crash over.
France's defence was creaking and fly-half Jessy Tremouliere was shown a yellow card for a deliberate knock-on, ushering in a damaging spell that saw Alex Matthews cross and a penalty try awarded against Rose Bernadou.
However, having regrouped at half-time, France full-back Emilie Boulard went over in the 48th minute through slick attacking play and when Gabrielle Vernier produced a smart dummy and sidestep before speeding over, the Red Roses' nerves began to fray.
They settled when Lark Davies dived over once England's pack had reasserted itself but the visitors continued to fight with tries by Charlotte Escudero, Emeline Gros and Cyrielle Banet falling narrowly short of the target needed.