Northern Ireland start the post-Kenny Shiels era on Thursday with interim manager Andy Waterworth saying it has been a difficult time for the players following a change in management.
Shiels left his position in January after nearly four years at the helm, during which he led the country's women's team to a first-ever major tournament in Euro 2022.
Waterworth, the Irish Football Association's head of elite player development, has taken over for what he expects to be his one and only game in charge, Thursday's friendly with Wales at the Cardiff City Stadium.
The 36-year-old former Glentoran and Linfield striker is being assisted by former Northern Ireland internationals Aaron Hughes, who was appointed as the IFA's first technical director in November, and Roy Carroll in Cardiff.
On the situation facing the squad, Waterworth said: "It hasn't been easy because as a player you want clarity and this has been sprung on them. But due to their focus it's been easier for me as a coach.
"I knew they would be professional because they are playing for the national team, but what has impressed me is that they are so focused on their work.
"They've been very welcoming and have trained really well. I think the game's come at the right time."
IFA director of women's football Angela Platt and Hughes, the former defender who won 112 caps for his country before retiring in 2019, have been tasked with finding Shiels' permanent successor.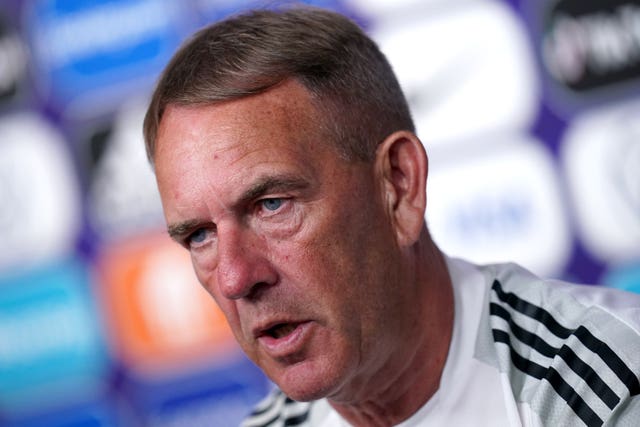 "I've been asked to step in here and lead on coaching for this game," said Waterworth, who started studying for his coaching badges at the age of 16.
"Angela and Aaron have given me the reasons why, and I trust them. My conversations with them have not been anything past this camp.
"I'm excited and nervous (about the game), the same feelings a player would have in a national squad. Any time wearing the badge and representing your country, those emotions come with it.
"I've watched a lot of (women's) games, even on the flight home with the men's under-19 team last week I was watching game after game after game.
Northern Ireland failed to qualify for the 2023 Women's World Cup in Australia and New Zealand, finishing behind England and Austria in their group, but claimed a record points tally of 19 in qualifying.
The return of record goalscorer Rachel Furness, who stepped away from international duty in August for personal reasons, has boosted Waterworth's squad.
Captain Marissa Callaghan has also continued her Northern Ireland career, with the 37-year-old midfielder saying: "I'm enjoying my football and as long as I can contribute to the team I'll keep coming on board.
"We've had a lot of success, taken it to another level, and we want to build on that. I wouldn't say we were in limbo."