John Barclay admits Brian O'Driscoll was spot on by claiming Scotland's cannot be considered genuine NatWest 6 Nations title contenders until they find a cure for their travel sickness.
But the Dark Blues skipper believes his side can make the Aviva Stadium a home from home on Saturday if they replicate their stunning performance against England.
The former Ireland great stoked the fires ahead of this weekend's crucial Dublin showdown by talking down the chances of Gregor Townsend's team clinching their first Championship triumph since 1999.
Scotland have won just two games outside of Edinburgh and Rome since the tournament was expanded to six team the following year and opened the current campaign with a 34-7 hammering from Wales.
But while the Townsend's rejuvenated outfit notched up impressive over France and the Auld Enemy at BT Murrayfield last month, O'Driscoll said the Scots' will not get the respect given to real challengers until the fix their woeful record on the road.
"Until they do that, they'll be seen as a home team," said the former British and Irish Lion.
But Barclay believes the template his side used to clinch a 25-13 Calcutta Cup triumph over England is good enough to win home or abroad.
Responding to O'Driscoll's comments, he said: "I think that is fair comment based on our record going into this game. The record speaks for itself.
"It would be nice to prove him wrong but it won't be motivation for us doing it just because somebody called us homers.
"Ultimately the teams that do well in this competition have to do well away from home.
"It's something we've looked at. We've looked back on away wins when we have managed it.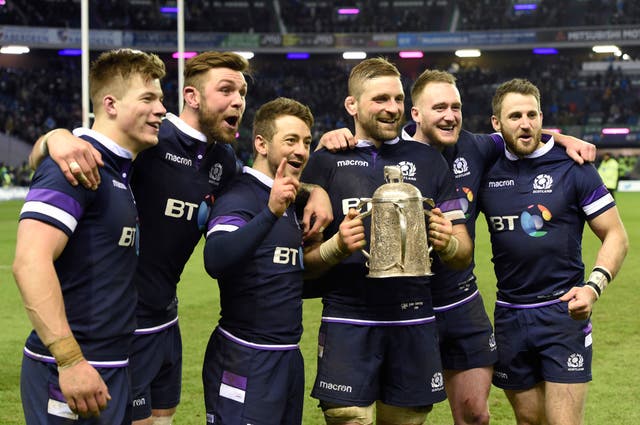 "If we play with that intensity and that accuracy we should be in a good position."
Victory over Joe Scmidt's team would not only kill off doubts over the Scots' capabilities but also fire them right into the Championship mix.
The Irish Grand Slam-chasers top the table with three wins and two bonus points but with a trip to Twickenham still to come, Schmidt's team could yet be caught.
However, Scotland's defence coach Matt Taylor insists title talk has not been on the agenda as his team puts their focus on shutting down the twin threats of Conor Murray and Johnny Sexton.
"We haven't talked about the bigger picture of the championship at all – just putting in a good performance against Ireland," said the defence chief.
"We know if we do we'll be there or thereabouts and everything else takes care of itself.
"Talk of the title hasn't been banned, it's just out of control in terms of other games, in terms where we are in the table. If we execute then those outcomes will happen.
"Murray and Sexton are probably Ireland's best two players.
"They certainly steer the ship in terms of the way they play. It's a very attritional game, they hold on to the ball for long periods of time and don't give away many turnovers, so you've got to apply pressure on those two guys.
"If you let them have an armchair ride they're one of the best pairings in the world. We'll certainly look to disrupt them and put them under pressure."