A seventh man has been arrested by Irish police investigating the state's largest ever drugs seizure.
Almost 160 million euro worth of cocaine was found onboard a Panamanian registered cargo ship when an elite army unit stormed the vessel on Tuesday as it attempted to escape Irish waters.
The suspect is being held on suspicion of organised crime offences contrary to Ireland's Criminal Justice Act 2006.
He and the six other men arrested in connection with the investigation so far are being held in Garda stations in the southern region.
It comes as the head of Ireland's police force said there was Irish involvement in the trafficking of the cocaine.
Speaking to reporters on Thursday, Garda Commissioner Drew Harris said: "Given that the target for the importation was Ireland, there has to be some Irish involvement in this.
"Because beyond actually landing it, there's obviously then a huge distribution effort required to move that amount of drugs either throughout Ireland or then from Ireland into Europe.
"So, a lot of lines of inquiry for us around the individuals so far apprehended, but also then the scale of investment required upfront to make this operation happen."
Earlier on Thursday, Ireland's justice minister said the seizure demonstrated that the country is not a soft touch for traffickers.
Helen McEntee said Ireland was "very much in the game" in efforts to prevent drug shipments from South America entering Europe.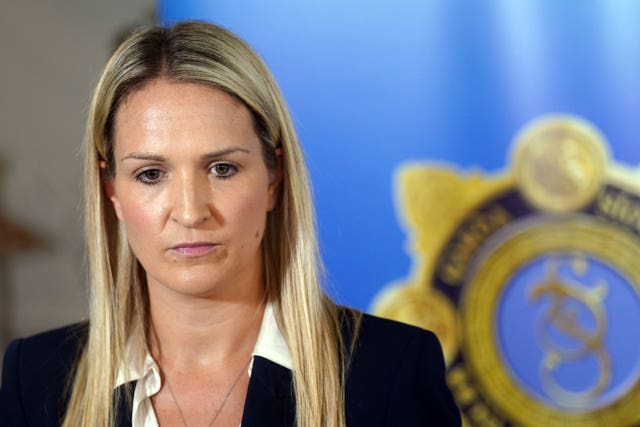 A total of 2,253kg of cocaine was found on the MV Matthew after members of the Army Ranger Wing captured the vessel by abseiling from a helicopter.
Ms McEntee was asked whether traffickers were attempting to use Ireland to enter Europe, given the state currently only has two Naval Service vessels to patrol the large expanse of its territorial waters.
One of those patrol vessels, the LE William Butler Yeats, fired warning shots in the direction of the MV Matthew after it failed to obey orders during Tuesday's capture mission.
"I think what's clear from this week's find is that Ireland is anything but a soft touch," Minister McEntee told reporters as she attended a meeting in Brussels.
"This is a seizure worth 158 million euros worth of cocaine. This was an operation led by An Garda Siochana but working collaboratively with our Defence Forces, our Naval Services, Revenue and Customs, but also with intelligence from our counterparts right across the water and right across Europe.
"So what it shows is that we are very much in the game, that we are very much part of a joint effort to take down these organised crime gangs."
Army Ranger Wing members descended by fast-rope from a helicopter on to the vessel as it tried to sail out of Irish waters and evade capture on Tuesday.
The ship had been under surveillance since Friday when a multi-agency operation responded to intelligence of a major international drug smuggling bid.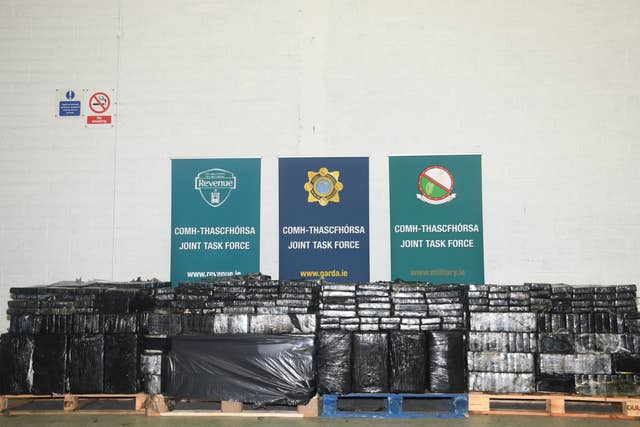 They suspect the drugs, supplied by a South American cartel, were for distribution across Europe.
The MV Matthew was escorted to Cork harbour on Tuesday.
A fishing trawler that grounded off the coast of Co Wicklow late on Sunday was also being monitored as part of the operation, amid suspicions it was en route to rendezvous with the cargo ship.
The vessel remains stuck on a sandbank out at sea, with poor conditions preventing the authorities from boarding and searching it.
It will be treated as a crime scene when it is accessed, police said.