It is "common sense" to allow EU nationals who have worked for years in the UK to vote in a general election, Sir Keir Starmer has suggested, as Labour considers extending the franchise.
The Opposition leader said it "feels wrong" that people who have contributed to Britain's economy and raised their children in the country are not allowed to cast a ballot.
Labour is open to both lowering the voting age to 16 and extending rights to settled migrants, but has stressed these are currently "ideas" being "looked at" rather than policy.
"I think that feels wrong and something ought to be done about it."
He added that the fact settled migrants do not have full voting rights "actually just doesn't pass the common sense test for me".
Allowing teenagers aged 16 and over to cast a ballot is also "not such an outlandish idea", Sir Keir said.
He pointed to Wales where the voting age for Senedd and local government elections has been lowered to 16.
The Labour leader insisted that he has no intention of reopening the issue of Brexit after Conservative Party chairman Greg Hands accused him of attempting to "rig the electorate to rejoin the EU".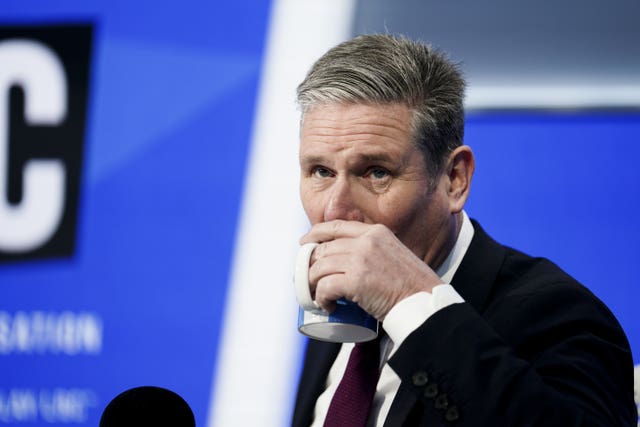 "No other EU country allows EU citizens who are not their nationals to vote in parliamentary elections."
Meanwhile, former Liberal Democrat leader Sir Vince Cable suggested to The Observer it would be "highly improbable" that his party would enter a coalition with Labour.
Sir Keir has repeatedly refused to rule out such a pact, saying on Monday that he would need to "wait and see what the situation is next year".
Downing Street indicated there were no plans to extend the franchise for general elections.
The Prime Minister's official spokesman said: "The right to vote in parliamentary elections and choose the next UK Government is restricted to British citizens, citizens of those with the closest historical links to our country. That's the position of the vast majority of nations across the world."
He added that 18 "is recognised as the age at which one becomes an adult – full citizenship rights, drinking, smoking, voting are only gained at adulthood".
"We have no plans to change the national voting age," the spokesman said.
Trade minister Nigel Huddleston branded Labour's considerations a "gimmick" and suggested lowering the voting age would be unpopular among his constituents.
"I don't think tinkering around with that kind of system is a good idea and I don't think many of my constituents are keen on the idea either, but it doesn't surprise me that Labour are coming up with these kind of gimmicks," he told LBC.