Members of Scotland's largest teaching union have voted to accept a pay deal, ending its long-running campaign of school strikes.
Teachers with the Educational Institute of Scotland (EIS) backed the sixth deal put to them, which will see a 7% pay rise backdated to April 2022, a further 5% next month, and another 2% in January.
Some 90% of EIS members who took part in the vote backed the pay offer, with 10% rejecting it. There was a turnout of 82%, the union said on Friday.
Andrea Bradley, EIS general secretary, said the high turnout shows members had "taken a pragmatic decision in voting to accept the current pay offer".
She added: "While it does not meet our aspirations in respect of a restorative pay settlement for Scotland's teachers, it is the best deal that can realistically be achieved in the current political and financial climate without further prolonged industrial action.
"It compares favourably with recent pay settlements across the public sector, and does provide pay certainty for Scotland's teachers for the next 16 months until the next pay settlement is scheduled to be delivered in August 2024."
Under the deal, most teachers will see their pay increase by 14.6% by January 2024, Ms Bradley said.
It comes after the Scottish Secondary Teachers' Association (SSTA) union announced its members had backed the offer on Thursday.
Scottish Education Secretary Shirley-Anne Somerville welcomed the announcements.
She said: "It is the most generous offer to teachers in more than 20 years and one that is fair, affordable and sustainable for everyone involved.
"Teachers in Scotland are already the best paid in the UK and this deal will mean a salary rise of £5,200 in April for most teachers, and a cumulative rise of 33% since January 2018.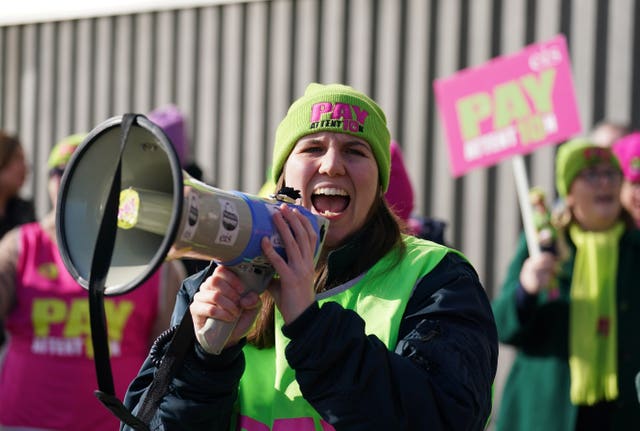 EIS and SSTA leaders had recommended members accepted the deal.
NASUWT members are also involved in the dispute and its general secretary, Patrick Roach, had condemned the latest offer from Ms Somerville as "only a paltry improvement" on the previous proposal.
That union is also balloting its members on the deal.
The EIS members' approval of the deal came after a breakthrough in negotiations last week, which saw the union pause strikes set to be staged in the constituencies of senior politicians, including First Minister Nicola Sturgeon.
It had also planned a 20-day campaign of rolling strikes in every part of Scotland.
The pay dispute between the councils and the teaching unions had become bitterly contested, with the first walkout taking place last November.
Ms Bradley said it was "deeply regrettable that it took a sustained industrial dispute and the first programme of national strike action on pay by teachers in 40 years" for a deal to have been reached.
Scottish Conservative education spokesman Stephen Kerr said: "Pupils, parents and teachers will be breathing a sigh of relief this deeply damaging dispute finally looks like it is over.
"But it would never have lasted this long – and caused so much disruption to our children's education – had Shirley-Anne Somerville been on top of her brief and shown the required urgency to resolve it."
Scottish Green education spokesman Ross Greer said he was "delighted that teachers will now receive their biggest pay uplift in two decades".
He added: "This is a fantastic result for them and for students who no longer face potential disruption to their upcoming exams."
Willie Rennie, education spokesman for the Scottish Liberal Democrats, said the "prolonged and bitter dispute has caused unquantifiable harm" to the relationship between the government and the teaching profession.
"The Government now needs to support teachers rather than undermine them as young people deserve a good education after years of turmoil," he said.