A Holocaust survivor whose new life in Britain after the Second World War allowed him to "become human again" has been made an MBE for services to Holocaust education.
Harry Olmer, 95, received the honour from the Princess Royal at Windsor Castle on Wednesday afternoon.
He survived five years of forced labour in Nazi-occupied Poland before being evacuated to the Lake District in July 1945.
Mr Olmer told the PA news agency: "It was interesting and unique. It was the first time we became human beings again after the Holocaust.
"We started to live again and learn again – our minds were completely blank.
Mr Olmer, who is a father of four and grandfather of eight, did not know any English when he was taken to the Calgarth Estate near Lake Windermere with 300 other liberated Jewish children.
The story of the evacuees was portrayed in the 2020 film The Windermere Children.
Asked what it was like to meet Anne, he said: "She was very nice. She said how important it was that I do the work that I do. We talked about which concentration camps I was in.
"It is a unique experience and especially with what is happening with denials of the Holocaust and antisemitism as well.
"Now it is at its most important."
Mr Olmer took evening classes for three years to get the qualifications he needed to study dentistry at the University of Glasgow.
After graduating in 1953 he worked as a dentist in the Army and then in Potters Bar, Hertfordshire, until retirement in December 2013.
Also honoured in the afternoon ceremony was Shane Ryan, who received an MBE for services to disadvantaged young people and to charity.
Mr Ryan, 53, told PA his work was inspired by his experiences in care and as a teenage father.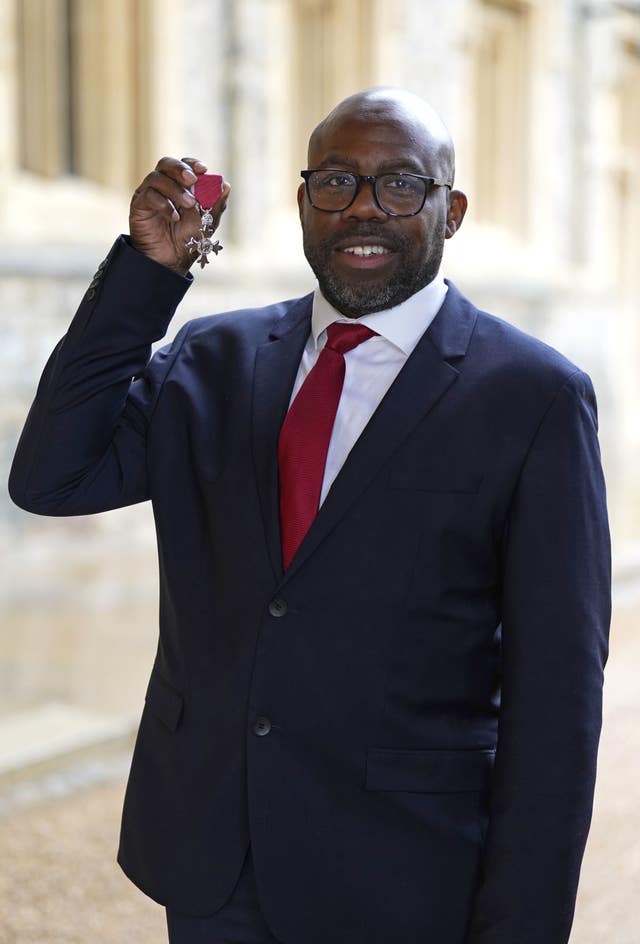 "So I was never thinking I would end up here at all and it was never something I was thinking about.
"I think fundamentally what are we here for if not to support other people? What's the point?
"And with the MBE now the most important thing is how I can use it to support and inspire other people. That is the most important thing."
Mr Ryan is chairman of the Grenfell Children and Young People's Fund, which supports children affected by the 2017 Grenfell Tower fire.
He said the fund aims to alleviate the "trauma" experienced by young people who were in the tower and those who watched it in flames.
"The fund itself came post-fire when there was a huge amount of trauma," he said.
"We particularly felt that young people were disproportionately affected by what happened. And as a consequence, what we started to do was work with young people on the ground trying to work out what their needs were."
The fund provides grants to community initiatives that range from mental health programmes and post-traumatic stress disorder support to swimming and school mentoring.
"The fact that young people made the decisions on where they felt the money should go was the most important thing and a couple of the projects are actually led by young people," Mr Ryan added.