Environmental activists blocked roads and swarmed landmarks calling on the "ecocidal Government" to take rapid action to avoid potentially catastrophic climate change.
Hundreds of members of the Extinction Rebellion group wore black funereal clothing and laid wreaths to "commemorate and grieve" the loss of animal and human life due to climate change on Saturday.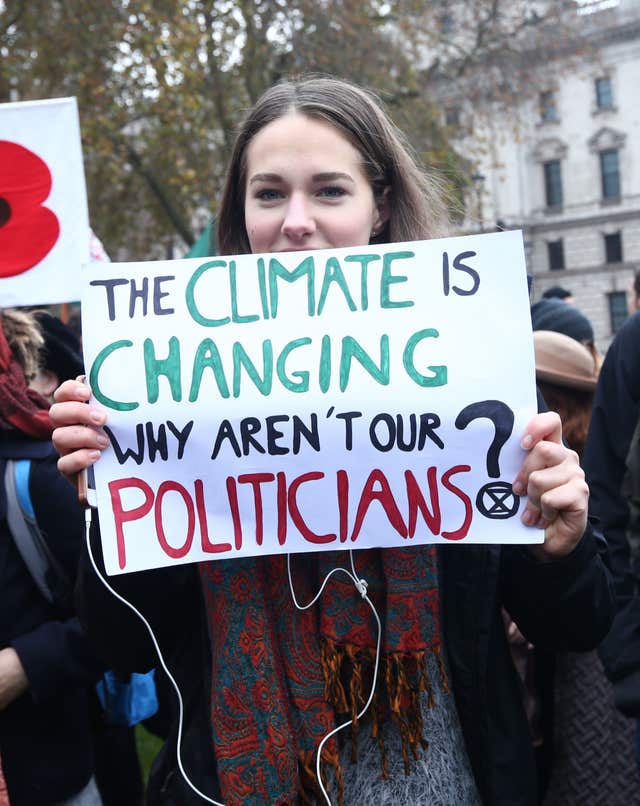 One poster read: "The climate is changing. Why aren't our politicians?"
Some 14 people were arrested for criminal damage, including for damage to the Women at War war memorial, Scotland Yard said.
Activist Gail Bradbrook read a letter at the protest, saying: "It is clear beyond doubt that climate breakdown and ecological collapse is imminent unless governments, including our government, drastically change course.
"The facts point to the destruction of families, our communities, our nation, our state unless we change course."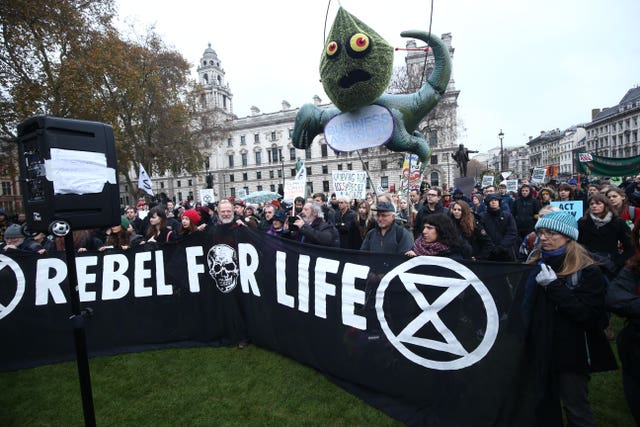 A total of 82 people were arrested following staged sit-ins on five bridges crossing the Thames.
Earlier that week, activists were detained after protesters blocked traffic and glued themselves to entry gates at the Department for Business, Energy and Industrial Strategy.
Extinction Rebellion said in a statement: "We Rebel because we love this world.
"It breaks our hearts to see it ravaged, to watch so many people and animals all over this world already dying, to know that this will soon happen to our children without urgent changes.
"We are serious, this is an emergency, this is our home we are watching collapse."
Other events were scheduled to take place at the Scottish Parliament in Edinburgh, Manchester and the Menai Bridge in Bangor, as well as a procession from Sheffield Cathedral, organisers said.