A prison governor has told how notorious inmate Charles Bronson launched himself at him and threatened to gouge his eyes out prior to a welfare meeting.
Leeds Crown Court heard how Bronson, 65, launched himself at Mark Docherty at HMP Wakefield on January 25, having held the governor responsible for one of his visitors not being allowed to use their own wheelchair.
Giving evidence on Tuesday, Mr Docherty described the relationship between himself and the defendant, who is standing trial under the name Charles Salvador, as being "not good".
The governor told how, at the time of the incident, he was meeting with Bronson, who is now at Frankland Prison in County Durham, in order to discuss his "welfare and engagement" within the prison system.
Mr Docherty said Bronson "never" attended such meetings and a psychologist, members of an independent monitoring board, probation and a personal officer were all due to attend.
Describing the moment he invited Bronson into the adjudication room to begin proceedings, the governor said: "I could see Mr Salvador look to draw a punch or to grab me by the neck.
"I have not had the chance to move so I got hold of Mr Salvador's arm as it's come round my neck.
"As I grabbed hold of his arm I went back into the chair and I think the momentum of me and Mr Salvador heading in the same direction meant I fell to the floor and Mr Salvador fell on top of me."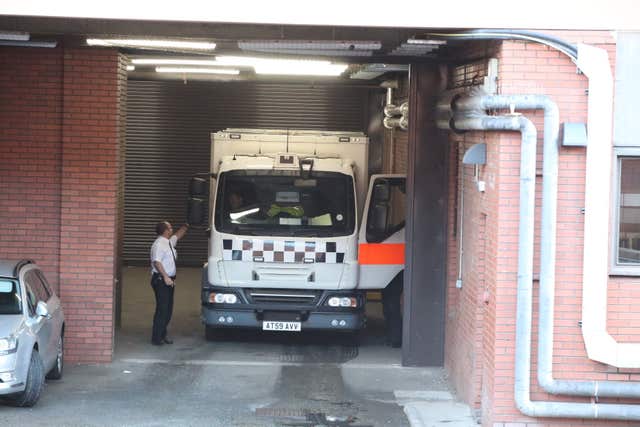 Mr Docherty added that, with the help of custodial manager Steven Coomber and a number of his colleagues, Bronson was eventually pulled away.
Jurors were told how the defendant warned HMP Wakefield's governing governor, David Harding, would "be next" as he was pulled away from the room.
Bronson, who is defending himself, denies a single charge of attempting to cause grievous bodily harm with intent.
When asked whether he could see Mr Docherty well enough from his seat in the dock, the prisoner said: "I don't really want to see him, but yes."
As prosecutor Carl Fitch took a gulp of water during the morning session, Bronson, who has served over 40 years in prison, was heard to say: "I hope that's not gin."
The trial, which is expected to conclude this week, will continue on Tuesday afternoon, when Bronson is expected to cross examine Mr Docherty.