The head of a controversial data analytics firm which worked on Donald Trump's successful presidential campaign has denied any involvement in the EU referendum.
Appearing before MPs, Cambridge Analytica chief executive Alexander Nix said they had an exploratory meeting with the Leave.EU campaign but there was no agreement to work together.
"We didn't get hitched. We dated each other. We had a couple of dinners but we didn't get married," he told the Commons Digital, Culture, Media and Sport Committee.
His account drew a furious response from Leave.EU co-founder Arron Banks, who wrote in his book on the referendum campaign that they had "hired" Cambridge Analytica in 2015 to "develop messages" for target voters.
Writing on Twitter as the hearing was ongoing, Mr Banks said: "CA wanted a fee of £1m to start work & then said they would raise £6m in the states. We declined the offer because it was illegal."
Asked about his online comments by the committee chairman Damian Collins, Mr Nix said they were "absolutely incorrect".
"Mr Banks is at liberty to say what he likes but I don't have to agree with it. That is totally untrue," he said.
Mr Nix told the committee – which is inquiring into "fake news" – that Cambridge Analytica had been linked with Leave.EU as a result of a statement issued "erroneously" by a "slightly over zealous PR" saying they would be working together on the referendum.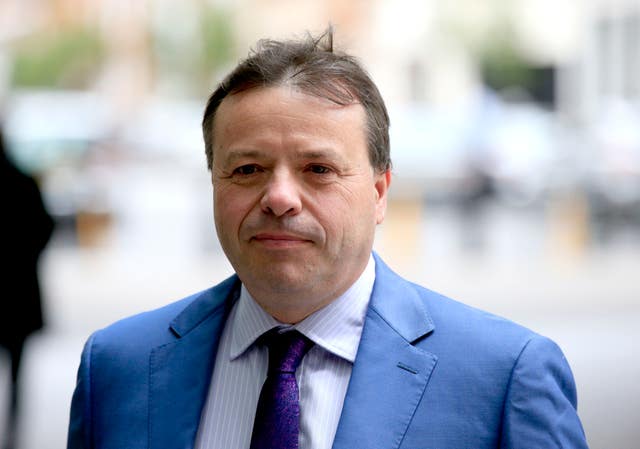 Mr Nix was repeatedly challenged by MPs over the claims in Mr Banks's book, The Bad Boys Of Brexit, and about the appearance of a Cambridge Analytica employee at a Leave.EU press conference, but insisted they had never worked together.
"We did not work for Leave.EU. We have not undertaken any paid nor unpaid work for them," he said.
He said that he was unaware Leave.EU had included Cambridge Analytica in its unsuccessful bid to the Electoral Commission to be designated the lead the Leave campaign in the referendum.
"I can only assume that they felt by associating themselves and aligning themselves with Cambridge Analytica that would give them extra credibility and leverage in trying to compete in a bid where they were clearly the underdogs," he said.
Mr Nix said that while the firm had used "big data and predictive analytics" techniques originally pioneered by the Democrats in the United States in their work for the Trump campaign, he believed they found themselves at the centre of controversy because of the nature of their candidate.
"Part of the issue is that our candidate is somewhat polarising and so people see the work that we did in a negative light and they refuse to accept the fact that Clinton's machine was three times the size of anything we were doing for Trump," he said.
Mr Nix confirmed they had tried to contact Wikileaks founder Julian Assange following reports that he had obtained access to "a large quantity of information that could be incredibly relevant to the outcome of the US election" but said they were rebuffed.
"We simply reached out to a speaking agency that represents him – that was the only way we could find to get hold of him – and said 'would you pass him a message asking whether he'd like to meet to discuss this' and we received a message back through this intermediary saying 'No, they wouldn't'. That was it," he said.