A former BBC director-general has said the reinstatement of Gary Lineker as host of Match Of The Day is like "a 5-0 win" for the sports presenter.
Greg Dyke, who is also a former chair of the Football Association (FA), said there was a perception that the broadcaster had been "bullied" by the Government into its initial decision to remove Linker from the programme.
On Monday, current BBC director-general Tim Davie apologised for "the potential confusion caused by the grey areas of the BBC's social media guidance" that had resulted in the recent impartiality row.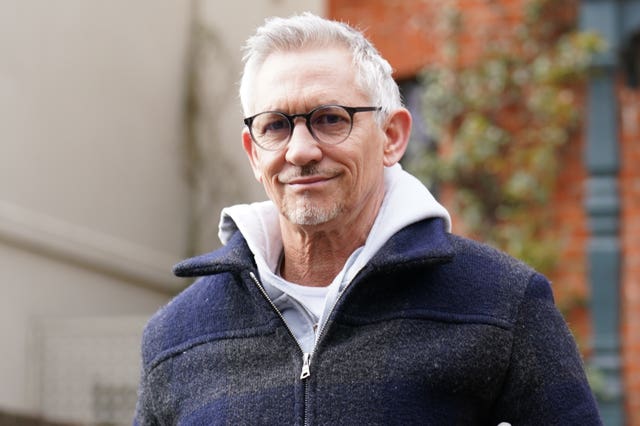 Confirming his return to the football highlights show on Saturday, Mr Davie said the presenter "will abide by the editorial guidelines" until a review of the BBC's social media policy is complete.
Speaking on Tonight with Andrew Marr, Mr Dyke said: "Today's announcement is like a 5-0 win for Gary Lineker really, or maybe 5-1.
"As I understand it, this was the very solution that was offered to the BBC on Friday, and they turned it down – now they've accepted it."
Mr Dyke was director-general of the BBC from 2000 to 2004, but resigned following heavy criticism of the BBC's news reporting process in the Hutton Inquiry.
He told Marr: "In the 20 years since I left the BBC, I've never criticised the leadership of the BBC because I think it's a tough job, as you know, really.
"And I think by and large, if you're an ex-director, generally your job is to walk away.
"But in this case, I think the perception out there, the perception amongst the public is, is exactly what you said: that it looks like the Government has bullied the BBC into taking this (original) decision.
"Now, I don't know whether that's true or not. I have no idea. But if that's the perception, it's very bad news for the BBC."
An investigation is currently under way into Mr Sharp's appointment to the position.
Asked about Mr Sharp's removal from the position, Mr Dyke said: "I'm not sure I do think he should go.
"I personally hope there's an opportunity in this inquiry to look at the whole way that the chairman and the governors get appointed at the BBC.
"Because I think…we're now in a world where they shouldn't be appointed by the Government of the day."
Asked about alternative methods of selecting the BBC chairman, he added: "It could be a panel of MPs, it could be a panel of the great and the good, it could be all sorts of things.
"But I do think you can't carry on. I think this has brought to a head the whole discussion about impartiality in the new world, and I think the BBC has got to face up to that."