Erik ten Hag has hailed Bruno Fernandes as the example Manchester United's players must follow if the club is to build a winning culture.
The midfielder was pictured wearing a protective boot after injuring his ankle during United's FA Cup semi-final win against Brighton on Sunday, but recovered in time to captain the side in Thursday's 2-2 draw with Tottenham.
United were two goals up at half-time, with Fernandes instrumental in setting up Marcus Rashford to score after Jadon Sancho had given the visitors an early lead.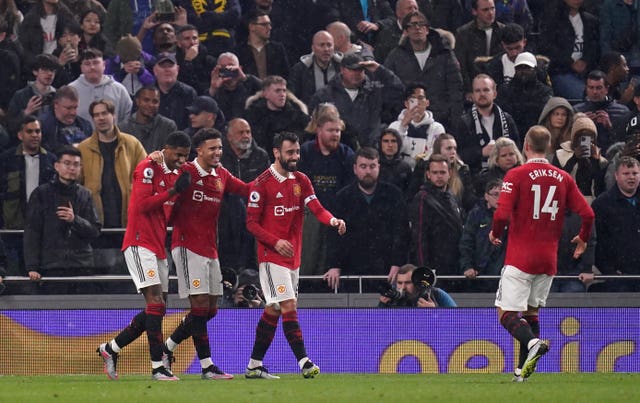 After watching his team let a two-goal lead slip, United's manager praised his skipper's readiness to suffer for the cause and called on the players to make Fernandes their inspiration if they are to find the consistency to compete on all fronts.
United lead Spurs by six points and have two games in hand in the race to finish in the top four, and in June will look to add the FA Cup to the Carabao Cup they have already won when they face Manchester City at Wembley.
"I think as Man United and as a top team then you have to compete and go for the win in every competition you are in, so that's what we are doing," said Ten Hag.
"That is the culture we want to construct, so that is what we are doing. It has to be in the mindset of every player and every employee who is working for Manchester United."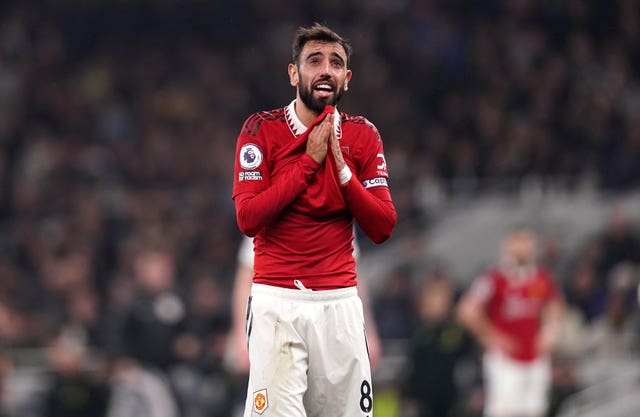 "I think he is the example, and that you have to suffer and you have to sacrifice when you want to play on the top level, you want to achieve something.
"So once again he showed there how great a captain he is, how he has taken responsibility, even when he is not 100 per cent fit.
"But he did the job, he was important in this game as well. Hopefully the team can, not learn, but see him as an inspiration and do the same."
The draw with Spurs was the second time in two weeks that United had thrown away a two-goal lead, following their late collapse against Sevilla in the first leg of their Europa League quarter-final.
There have also been limp defeats to Newcastle and Liverpool, the latter a 7-0 hammering, but Ten Hag was quick to remind critics that his team have beaten the top two in the Premier League and the La Liga leaders this campaign.
"We had some games I like," said Ten Hag. "Two weeks ago against Forest (a 2-0 win), I think that was almost optimum. You see it's not so easy to play Forest, you see Liverpool struggling, you see Brighton struggling there. That was a very good performance on our side.
"We had more games, I would have to think which games. Especially I think City (at home), that was a brilliant game. We had more, I think Arsenal, both games we played very well. We had many games where we were very dominant.
"Betis, Barcelona. So we had our games where we played very good football."
United announced on Friday that they will play Arsenal in a friendly in New York on July 22 as part of their pre-season tour of the US. They had already confirmed a fixture with Wrexham in San Diego for July 25.