Pep Guardiola claimed he was emotionally drained and had aged 10 years after Manchester City's stunning Champions League win over Bayern Munich.
City put one foot in the semi-finals for a third successive year as they powered to a 3-0 victory over the German champions in the first leg of their last-eight tie at the Etihad Stadium on Tuesday.
City manager Guardiola, who reached the last four three times as Bayern boss, said: "Emotionally I'm destroyed. I have 10 more years today. It was so demanding a game. It was not comfortable.
"After five, six minutes it was a tight game and in part of the game they were better than us. It was difficult to control them.
"In the last minutes of the (halves) we were better and we scored three fantastic chances."
The first half was evenly contested but City claimed the initiative with a spectacular strike from Rodri after 27 minutes.
A powerful header from Bernardo Silva and Erling Haaland's 45th goal of a remarkable season wrapped up a convincing win as City stepped up the pressure in the second half.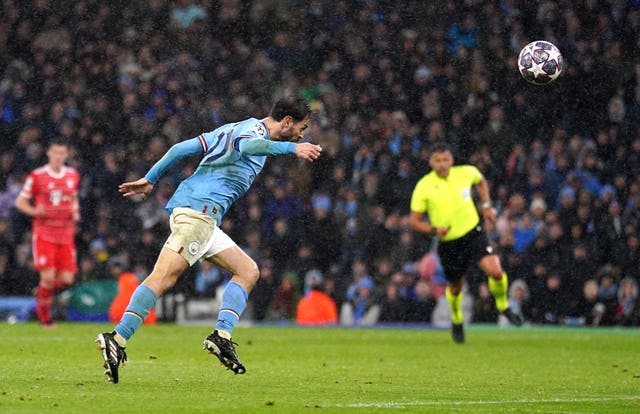 He said: "It was an incredible result but I know a little bit what can happen in Munich.
"If you don't perform really well they are able to score one, two, three. I know that, the players know that.
"It's an incredible result, but we have to do our game with huge, huge personality. If we don't do our game anything can happen.
"To knock out these teams you have to have two good games, not just one."
Haaland set up Silva's goal before netting himself to establish a new record for the most goals scored by a Premier League player in a single season.
Guardiola said: "He's always a threat. In the first half (he was) not in the game but in the second half we started to play better and he was part of the game.
"He showed he has the quality to assist as well. He is not just a top scorer."
Bayern boss Thomas Tuchel felt the scoreline was not a fair reflection of the game.
The former Chelsea manager said: "I try to not allow my players to focus on the result. I think it is not a deserved result, it does not tell the story of this match.
"This does not feel a 3-0 but it is a 3-0. It is a huge task to turn it around but we will not give up.
"It is a home match in Germany and, as they say, it will not be over until we are in the shower."