Amateur Sam Bennett insisted he could chase down four-time major winner Brooks Koepka as he continued to enjoy a dream Masters debut.
Playing alongside defending champion Scottie Scheffler at Augusta National, Bennett carded a second consecutive 68 on Friday to trail pacesetter Koepka by four shots.
And the 23-year-old from Texas, who won the US Amateur last year to secure his place in the year's first major, now has his sights set far higher than beating the six other amateurs in the field.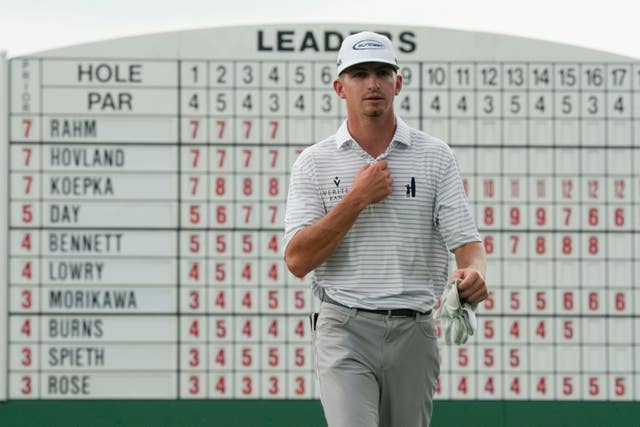 "I just wanted to put two good rounds up. I knew my golf was good enough to compete out here. I found myself in a situation that now I've got a golf tournament that I can go out and win.
"I don't have a pretty swing like some of the other amateurs. (But) I've done the right things this week. I was prepared. I was more experienced than the other guys, and yeah, I sit here with a chance to go on the weekend and do something special."
Asked why he thought he could overhaul former world number one Koepka, Bennett added: "Because I know that my good golf is good enough.
"I think I am prepared. The hard work's done. I made the cut as an amateur. I kind of made my mark. I played steady golf. Now it's time for me to go out and enjoy, soak it all in, be able to play the weekend at the Masters."
Bennett has already made headlines this week after stories in the media which highlighted the message from his late father which he has tattooed on his left forearm.
The five-word note – "Don't wait to do something" – was the last thing his father Mark wrote before his death in June 2021.
"I thrive on it. I use it for some motivation," Bennett added. "I know how happy he would be seeing me out here at Augusta National doing what I'm doing.
"This week, I've used it to just stay focused and really be locked in to that one shot. He was the reason why I started playing golf and why I wanted to be good to impress him.
"(Looking at the tattoo) is like a new pre-shot routine that I do now right before I'm about to hit it. I look at it and I'm like 'don't wait to do something.' It's something that will always stick and he means the world to me."