Olympic sponsors have been urged by the British Government to support a continued ban on Russian and Belarusian athletes for next year's Games in Paris.
Culture Secretary Lucy Frazer has written to the UK chief executives of the International Olympic Committee's 13 worldwide partners, who include Coca-Cola, Intel, Samsung and Visa, to put pressure on the IOC to set out the detail around the 'pathway' it is considering which would allow Russians and Belarusians to compete as neutrals.
The IOC's executive board recommended athletes from those two countries be excluded from international sports events last February, in the immediate aftermath of the Russian invasion of Ukraine.
The UK is one of 35 nations, also including the United States and Games hosts France, who have demanded clarity from the IOC on the precise terms of neutrality.
Frazer wrote: "We know sport and politics in Russia and Belarus are heavily intertwined, and we are determined that the regimes in Russia and Belarus must not be allowed to use sport for their propaganda purposes.
"As long as our concerns and the substantial lack of clarity and concrete detail on a workable 'neutrality' model are not addressed, we do not agree that Russian and Belarusian athletes should be allowed back into competition.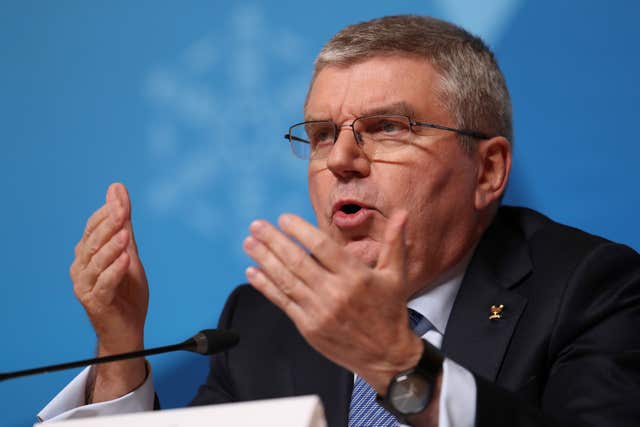 "As an Olympic partner, I would welcome your views on this matter and ask you to join us in pressing the IOC to address the concerns raised in our statement."
The UK Government believes the situation in Ukraine has deteriorated since the IOC took its initial stance to exclude Russia and Belarus, and that as long as Russian president Vladimir Putin continues the invasion, athletes from those countries should not be allowed to compete.
The IOC responded to the letter by saying there was no place for government interference in sport.
In a statement to the PA news agency, an IOC spokesperson said: "The IOC has taken note of the letter. It is not up to governments to decide which athletes can participate in which international competitions. This would be the end of world sport, as we know it today.
"We hope very much that the British government will respect the autonomy of sport which they have emphasised in so many decisions, statements and UN resolutions…
"What is under discussion in the Olympic Movement right now is nothing else than what is already happening in a number of international sports. Just last weekend we saw a Ukrainian player winning the WTA tournament in Austin/Texas in a final against a player with a Russian passport.
"In this context, we follow with great interest the discussion around the participation of players with Russian and Belarussian passports at Wimbledon.
"In accordance with how sport is organised around the world and with the Olympic Charter, it must be the sole responsibility of sport organisations to decide which athletes can take part in international competitions based exclusively on their sporting merit.
"According to this, Olympic sponsors are not involved in this decision-making process."