Tyson Fury will fight Deontay Wilder in Las Vegas in November after defeating Francesco Pianeta to secure his ambitious shot at the WBC heavyweight champion.
In the second fight of the comeback that began in June, and with Wilder ringside at Belfast's Windsor Park, the 30-year-old eased to victory over his little-known German opponent and secured 10 rounds of activity that could prove crucial come Vegas.
He was rarely tested against the durable Pianeta and the combination of lapses in concentration with his lack of sharpness prevented Fury from excelling as he can, but he regardless was awarded the winner via a score of 100-90 on referee Steve Gray's scorecard.
Fury's first fight after a near-three-year absence came against the even less remarkable Sefer Seferi, who he defeated in four farcical rounds that did little to rid him of the ring rust that would have developed during his inactivity.
He has since lost even more weight, dropping to 18st 6lbs at Friday's weigh-in, but in agreeing to risk a fight with Wilder so soon into his return he needed further rounds, and for the 33-year-old Pianeta to pose a threat to help him rediscover the reflexes that once brought him success.
Even while winning both, Fury has also had only two fights with his inexperienced trainer Ben Davison, making his preparation for perhaps the world's most dangerous heavyweight far from ideal, but against Pianeta he at least had the fight he needed in June.
Demonstrations of Fury's talent came as soon as the first round, when having been trapped in the corner and taken a combination he impressively manoeuvred out of it to finish their exchange on top.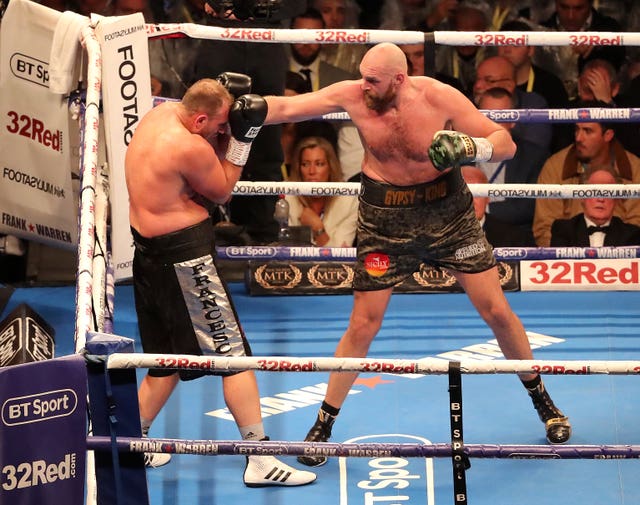 It was in the fourth round when he took a left hook, and nodded in acknowledgement, before continuing to box with relative caution until further opportunities were presented to him, such as in the sixth when he landed a right uppercut and further left hooks.
If Pianeta was gradually being broken down, his punch resistance ensured he rarely looked in danger of suffering a knockdown. Fury's lack of power at the highest level was similarly exposed when an eighth-round left hook was his best punch of the fight but still Pianeta was largely unmoved.
The lack of drama contributed to the 25,000-strong crowd — most fans had been soaked in the rain — booing at the fight's final bell and when Gray's decision was announced, but their boos then turned to cheers when Wilder joined him in the ring to confirm their fight.
Fury responded: "I'm knocking you the f*** out, boy."
His promoter Frank Warren added: "The fight's on. The details will be revealed next week but the fight's on."