A youngster from a Scottish town has been asked to coach his favourite basketball team, after dressing up as the head coach at a recent game.
Max Philliban, 10, from Falkirk, dressed up as Caledonia Gladiators' coach Gareth Murray, even going so far as to sport a replica of the coach's signature thick beard.
Max wore the club's strip, help up a coach's clipboard and wore fabric sleeve tattoos in tribute to Mr Murray's own tattoos.
To thank Max for his support of the Caledonian Gladiators he has been given the opportunity to support Mr Murray and his team at an upcoming training session.
Max said: "I'm so excited that I'm getting to train with the team – I can't believe it.
"I just thought it would be funny to dress as Gareth, and happy it made him laugh when he saw me. The only bad bit was the beard kept getting stuck in my mouth.
"I love basketball and going to see the Gladiators play.
"Gareth and all the team are really friendly, so I'm really looking forward to seeing them again."
Max, who attends Kinnaird Primary School, plays at under-12 level for basketball club Falkirk Fury, where Caledonia Gladiators stars Jonny Bunyan and Fraser Malcolm began their careers.
Max said he dressed as the club's coach after the Gladiators asked fans to dress up for their pre-Halloween British Basketball League match on October 29, where the team beat Leicester Riders.
The team won 84-83 at the club's new 1,600 seat stadium at Playsport, East Kilbride.
Mr Murray, 39, who was recently nominated for Coach of the Year at the annual Scottish Sports Awards, said he was touched by the gesture and was delighted to offer Max the chance to help train the club.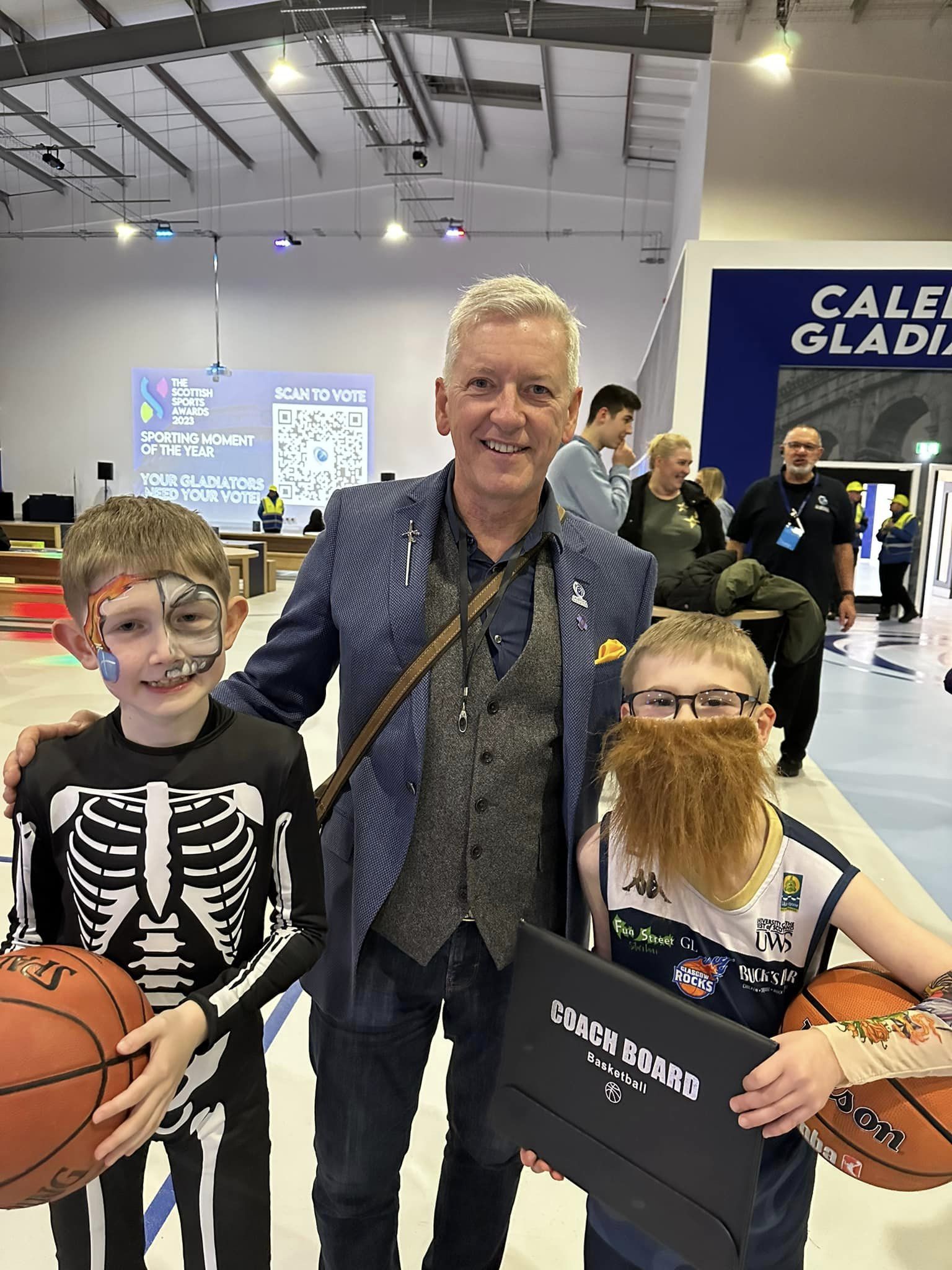 "I think it gave some of the players a good laugh as well, and it was great to get a chance to chat to Max and his family after the game.
"We'd love to have Max along to help us train for one of our upcoming matches – I was joking to some of the team that he certainly looks the part as a head coach."
Ms Philliban, who has another son, Conner, six, said Max enjoyed Mr Murray's team talks on the club's recent BBC documentary, Ballers: Ball Or Nothing.
She said: "When we told Max he'd get the chance to train with the team, his wee face lit up – he was over the moon.
"Max is a massive fan – we've gone to all the home games for the last three seasons. We just thought it would be a good laugh for Halloween.
"We've just finished watching the BBC documentary. We loved how passionate Gareth was, and he's always been really great with Max when they've chatted at games.
"We started going along to games and we've loved it ever since. Max loves interacting with the players. The whole team are so friendly and have so much time for the fans."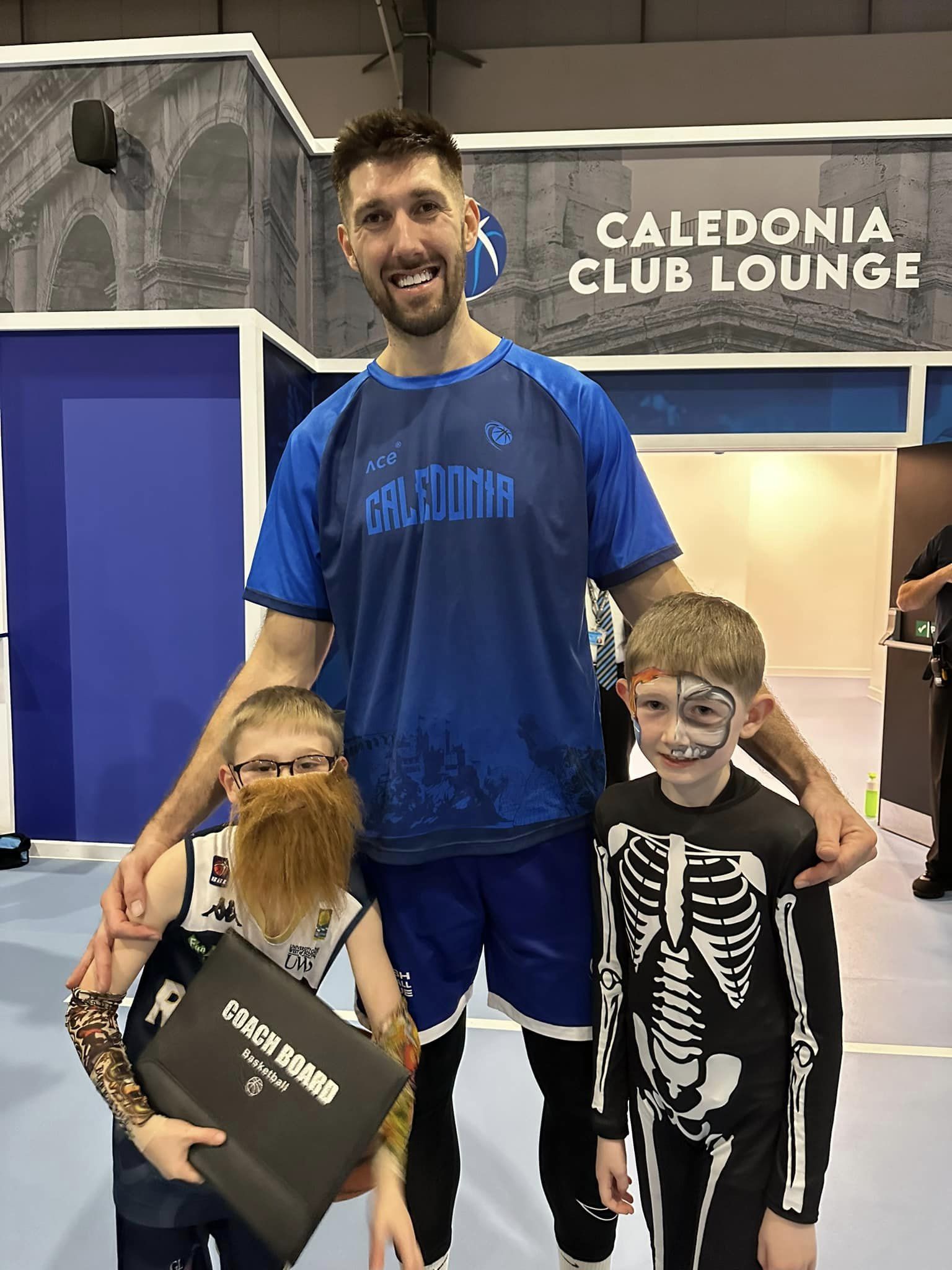 Caledonia Gladiators won their first silverware in two decades last season when they clinched the BBL Trophy Final in dramatic fashion, with a three-point shot on the buzzer winning the club's men side the trophy 73-70.
The club's men's and women's teams have started the season in their new home strongly, both becoming the first Scottish basketball club teams in decades to win in European competition.