A 25-year-old bank employee armed with a rifle opened fire at his workplace in Louisville, Kentucky, on Monday, killing four people, including a close friend of the state governor, while livestreaming the attack, authorities said.
"Let's be clear about what this was," Louisville mayor Craig Greenberg said. "This was an evil act of targeted violence."
The shooting, the 15th mass killing in the country this year, comes just two weeks after a former student killed three children and three adults at a Christian school in Nashville, Tennessee, about 160 miles to the south.
Police arrived as shots were still being fired inside Old National Bank and killed the gunman in an exchange of gunfire, Louisville metro police department chief Jacquelyn Gwinn-Villaroel said.
"The suspect shot at officers," the police chief said. "We then returned fire and stopped that threat."
She identified the gunman as Connor Sturgeon, who she said was livestreaming during the attack.
"That's tragic to know that that incident was out there and captured," she said.
Meta, the company that owns Facebook and Instagram, said in a statement that it had "quickly removed the livestream of this tragic incident this morning".
Nine people, including two police officers, were treated for injuries following the shooting, University of Louisville Hospital spokeswoman Heather Fountaine said.
One of the officers, Nickolas Wilt, 26, was in a critical condition after being shot in the head.
At least three patients had been discharged.
Emotional Kentucky governor Andy Beshear said he lost friends, including one of his closest friends, Tommy Elliott, in the shooting in the building on East Main Street not far from the Louisville Slugger Field and Waterfront Park.
"This is awful," he said. "I have a very close friend who didn't make it today. And I have another close friend who didn't, either. And one who's at the hospital that I hope is going to make it through."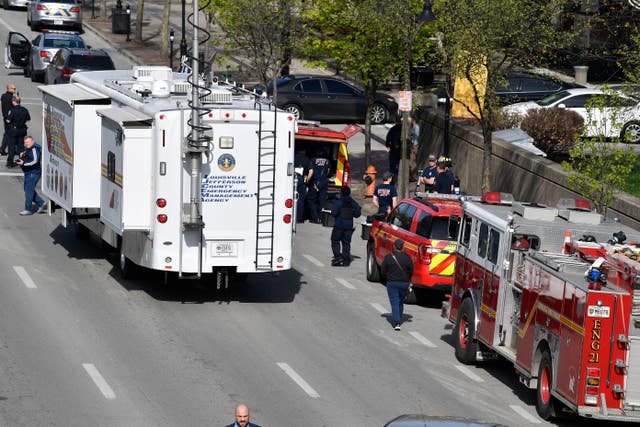 It was the second time that Mr Beshear was personally touched by a mass tragedy since becoming governor.
In late 2021, one of the towns devastated by tornadoes that tore through Kentucky was Dawson Springs, the hometown of Mr Beshear's father, former two-term Kentucky governor Steve Beshear.
Andy Beshear frequently visited Dawson Springs as a boy and has talked emotionally about his father's hometown.
Mr Beshear spoke as the investigation in Louisville continued and police searched for a motive.
Crime scene investigators could be seen marking and photographing numerous bullet holes in the windows near the bank's front door.
A man who fled the building during the shooting told WHAS-TV that the gunman opened fire with a long rifle in a conference room in the back of the building on the first floor.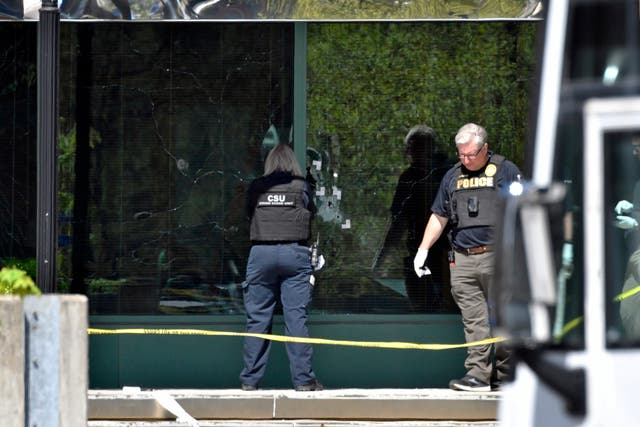 Deputy police chief Paul  Humphrey said the actions of responding police officers in Louisville on Monday had undoubtedly saved lives.
"This is a tragic event," he said. "But it was the heroic response of officers that made sure that no more people were more seriously injured than what happened."
The 15 mass shootings this year are the most during the first 100 days of a calendar year since 2009, when 16 incidents had occurred by April 10, according to a mass killings database maintained by the Associated Press and USA Today in partnership with Northeastern University.
Going back to 2006, the first year for which data has been compiled, the years with the most mass killings were 2019 and 2022, with 45 and 42 mass killings recorded during the entire calendar year.
The pace in 2009 slowed later in the year, with 32 mass killings recorded that year.