El Salvador's congress has voted to approve yet another extension of emergency rules allowing police to round up suspected members of street gangs.
Wednesday's vote was widely expected and marks the 12th such one-month extension granted to President Nayib Bukele since the measure was first approved on March 27 2022.
The crackdown has resulted in more than 65,000 arrests and thousands of alleged rights abuses, but remains popular in a country where gangs once demanded protection payments with impunity.
Opinion polls suggest that about nine in 10 Salvadorans approve of the government's anti-crime strategy.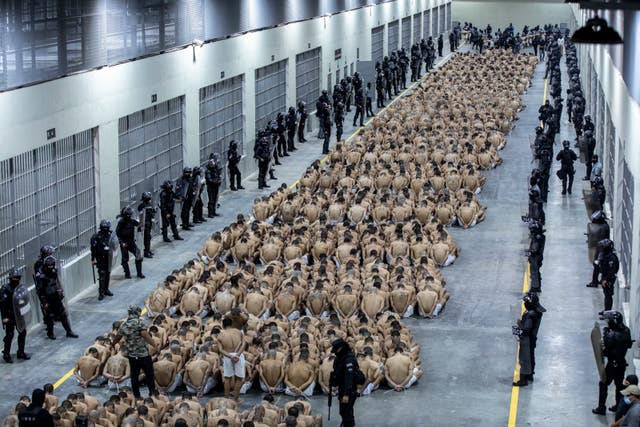 The government announced the mass inmate transfer with a slickly produced video posted on social media. It showed prisoners forced to run barefoot and handcuffed down stairways and over bare ground, clad only in regulation white shorts. They were then forced to sit with their legs locked in closely clumped groups in cells.
On his Twitter account on Thursday, Mr Bukele mocked social media comments about the prisoners being paraded shoeless and shirtless during the prison transfer.
"What, are the saying the darned dictatorship didn't give the prisoners tuxedos? Shoeless? Right now we'll take money away from the children's hospitals to buy them shoes! What brand do you think they would like?" he wrote.
Gustavo Villatoro, the government's minister for justice and peace, said on Wednesday the suspected gang members will never be freed, even though about 57,000 of those arrested are still awaiting formal charges or a trial.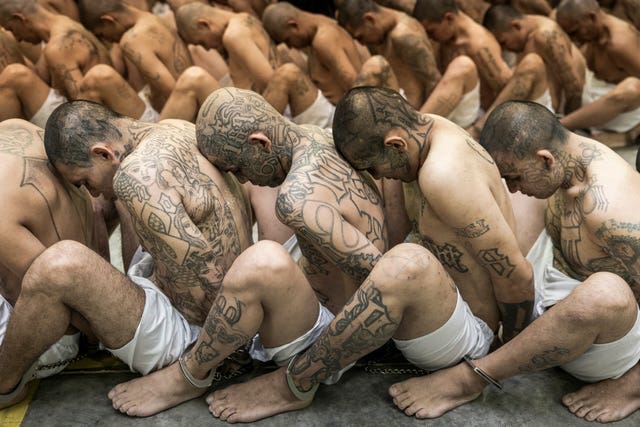 Only about 3,500 people swept up in the crackdown have been released so far.
Human rights groups say there have been many instances of prisoner abuses and innocent people have been swept up in police raids.
The local rights group Cristosal documented 3,344 cases of human rights abuses in the first 11 months of the state of emergency. Most of the abuses involved arbitrary arrest; relatives claim young men are rounded up based on their appearance or because they live in poorer neighbourhoods.
There have also been complaints about inadequate medical treatment in prisons.