Chinese foreign minister Qin Gang has lashed out at the United States over deteriorating bilateral relations and Washington's support for Taiwan, warning it will lead to "conflict and confrontation".
In his first news conference since taking office, he also suggested that America was undermining efforts for peace in Ukraine in order to extend the conflict for its own benefit.
Washington's China policy has "entirely deviated from the rational and sound track," Mr Qin told journalists on the sidelines of the annual meeting of China's rubber-stamp legislature.
It is in his only formal scheduled news conference for the year, although he sometimes takes questions during foreign visits.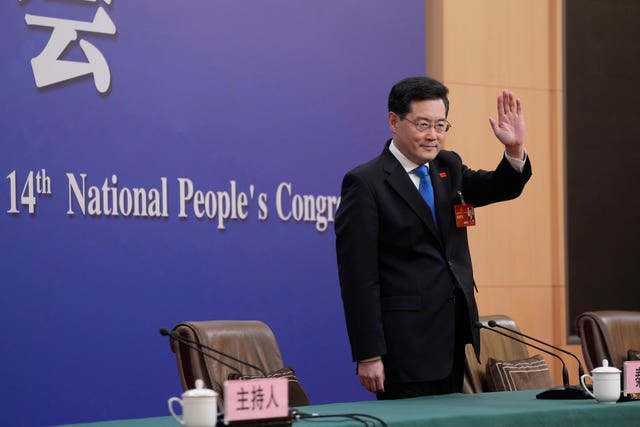 "It's so-called establishing guardrails and not seeking conflict simply means that China should not respond in words or action when slandered or attacked," Mr Qin said. "That is just impossible."
"If the United States does not hit the brake, but continues to speed down the wrong path, no amount of guardrails can prevent derailing and there surely will be conflict and confrontation," he said.
"Such competition is a reckless gamble, with the stakes being the fundamental interests of the two peoples and even the future of humanity."
Mr Qin's harsh and borderline apocalyptic language appeared to defy predictions that China was abandoning its aggressive "wolf warrior" diplomacy in favour of a more moderate presentation as bilateral relations have hit a historical low over trade and technology, Taiwan, human rights and Russia's invasion of Ukraine.
China last week responded with indignation to US suggestions that Covid-19, first detected in the central Chinese city of Wuhan in late 2019, originated from a leak of the virus from a Chinese lab.
The Foreign Ministry accused the US of "politicising the issue" in an attempt to discredit China.
After serving briefly as ambassador to Washington, Mr Qin was appointed foreign minister at the end of December, in which role he is junior to the Communist Party's senior foreign policy official, Wang Yi.
Earlier in his career, he served as Foreign Ministry spokesperson, gaining a reputation for his tartly worded condemnations of China's critics.
On Tuesday, Mr Qin repeated criticisms of Washington's recent shooting down of a suspected Chinese spy balloon over the US east coast, saying that was entirely an unexpected accident caused by force majuere.
"In this case the United States' perception and views of China are seriously distorted. It regards China as its primary rival and the most consequential geopolitical challenge," Mr Qin said. "This is like the first button in a shirt being put wrong and the result is that the US-China policy has entirely deviated from the rational and sound track."
US secretary of state Antony Blinken cancelled a planned visit to Beijing in the wake of the balloon incident, frustrating hopes for improved ties after meetings between top leaders at multilateral gatherings in late 2022.
The massive balloon and its payload, including electronics and optics, have been recovered from the ocean floor and are being analysed by the FBI.
Turning to Taiwan, the self-governing island democracy China claims as its own territory, Mr Qin called the issue the first red line that must not be crossed in China-US relations.
"The US has unshakable responsibility for causing the Taiwan question," he said, accusing the US of "disrespecting China's sovereignty and territorial integrity" by offering the island political backing and furnishing it with defensive weapons in response to Beijing's threat to use force to bring it under Chinese control.
"Why does the US ask China not to provide weapons to Russia, while it keeps selling arms to Taiwan?" Mr Qin said. "Mishandling of the Taiwan question will shake the very foundation of China-US relations."