Self-help author Marianne Williamson, whose 2020 White House campaign featured more quirky calls for spiritual healing than actual voter support, launched another longshot bid for the presidency, becoming the first Democrat to formally challenge President Joe Biden for the 2024 nomination.
"We are upset about this country, we're worried about this country," Ms Williamson told a crowd of more than 600 at a kickooff in the nation's capital, Washington DC.
"It is our job to create a vision of justice and love that is so powerful that it will override the forces of hatred and injustice and fear."
The 70-year-old onetime spiritual adviser to Oprah Winfrey should provide only token primary opposition, a testament to how strongly national Democrats are united behind Mr Biden.
Still, she tweaked the president, a long-time Amtrak rider, by holding her opening rally at the ornately marble-columned presidential suite at Union Station, Washington's railway hub.
Mr Biden gave his own speech from Union Station just before last November's elections, when he led Democrats to a surprisingly strong showing, urging voters to reject political extremism and saying "democracy itself" was at stake.
Ms Williamson, whose red, blue and black campaign signs feature the dual slogans A New Beginning and Disrupt The System, says she will be campaigning in early-voting states on the 2024 election calendar.
That includes New Hampshire, which has threatened to defy a Biden-backed plan by the Democratic National Committee to have South Carolina lead off the nominating contests.
Democrats and Republicans in New Hampshire have warned that if Mr Biden skips the state's unsanctioned primary and a rival wins it, that outcome could prove embarrassing for the sitting president — even if that challenger has no real shot of actually being the nominee.
Striking a defiant tone Saturday, Ms Williamson denounced "those who feel they are the adults in the room" and are not taking her candidacy seriously, proclaiming: "Let me in there."
"I have run for president before. I am not naive about these forces which have no intention of allowing anyone into this conversation who does not align with their predetermined agenda," she said.
"I understand that, in their mind, only people who previously have been entrenched in the car that brought us into this ditch can possibly be considered qualified to bring us out of it."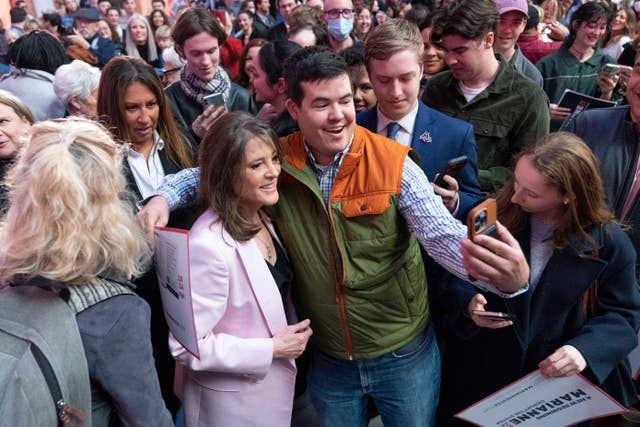 Most people in the United States, and even most Democrats, say they do not want him to run again, according to a poll from The Associated Press-NORC Centre for Public Affairs Research.
The president is expected to announce in the coming weeks that he is running again.
His political advisers have said they aren't worried about the Democratic primary but that Mr Biden is anxious to defeat Donald Trump again in the general election.
They say a 2024 campaign against another Republican nominee, such as Florida governor Ron DeSantis, would look much the same because top Republicans remain promoters of Mr Trump's Make America Great Again movement.
Ms Williamson didn't mention Biden by name in her speech, and though she noted that Mr Trump not being re-elected in 2020 kept the country from going "over the cliff", she also said it was still "six inches" from doing so.
The Democratic establishment, and even potential presidential hopefuls who could have competed against Mr Biden from the left or middle, is behind Mr Biden, showing how smooth his path to the nomination probably will be.
Even if other Democrats follow Ms Williamson into the race, the party is not planning to hold primary debates.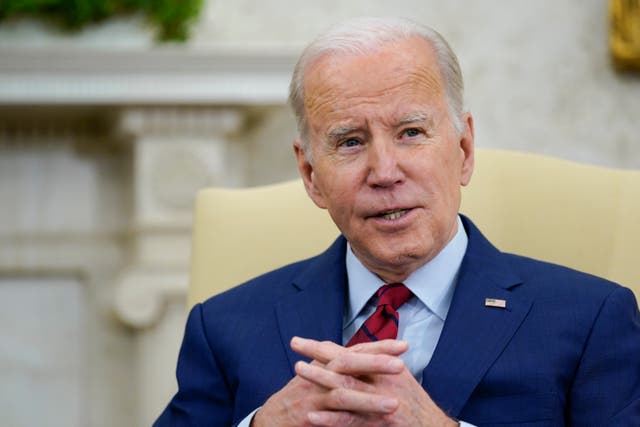 "The American people have been trained to expect so little," she said.
"The American people have been played."
A Texas native who now lives in Beverly Hills, California, Williamson is the author of more than a dozen books and ran an unsuccessful independent congressional campaign in California in 2014. In 2020, she was best known for wanting to create a Department of Peace and arguing the federal government should pay large financial reparations to Black Americans as atonement for centuries of slavery and discrimination.
Arguably her most memorable moment of that campaign came during a primary debate when she called for a "moral uprising", but she dropped out of the race shortly before the leadoff Iowa caucuses began.
She said on Saturday that the nation faced so many challenges, "I'm not saying one person can fix it. Not even one president can fix it."
"But let me tell you something," Ms Williamson added.
"A president who tells it like it is would do a lot of good."