Friends and family of one of the boys rescued from a flooded cave in northern Thailand in 2018 bid farewell to their teammate who died in the UK last month, remembering him as a natural leader with a promising life.
The shrine for Duangphet "Dom" Phromthep was decorated with 17 footballs, each representing his age.
On Saturday, monks sitting in a row chanted prayers for Duangphet at Wat Phra That Doi Wao, a temple less than 6.2 miles from the Tham Luang cave, where he and his 11 football teammates and their coach were trapped for more than two weeks before they were guided out by a team of expert divers in a rescue that grabbed global attention.
"He got to play football. He wanted to go abroad and he got that. Thank you for the opportunities that allowed him to live out his dreams," his mother, Thanaporn Phromthep, said.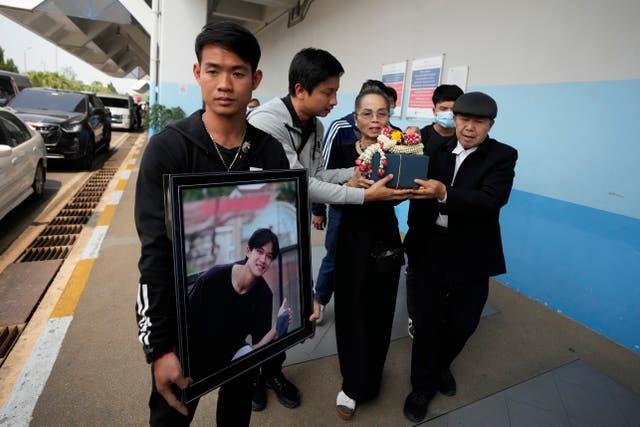 Duangphet was found unconscious in his room on February 12 at the Brooke House College Football Academy in Leicestershire, where he was on a scholarship, and died two days later in hospital.
His body was cremated earlier this week in the UK and on Saturday his ashes arrived in the far northern province of Chiang Rai, where funeral rites will be held over the next few days.
At Chiang Rai airport, his grandparents burst into tears when they were handed a small box containing the ashes.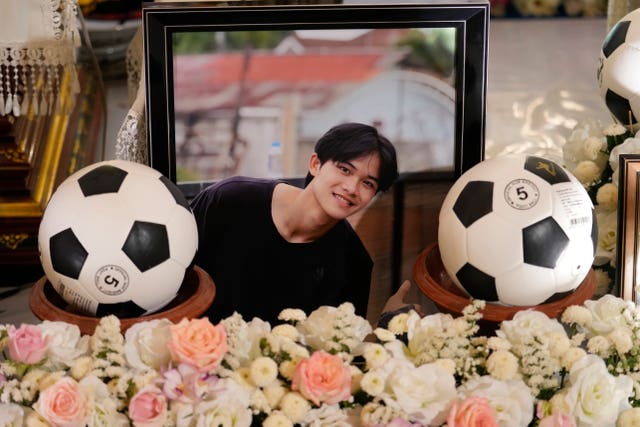 "He had a passion for playing football and was very focused and determined," said Nopparat Khanthavong, Duangphet's head coach when he was a member and captain of the Wild Boars youth football team in Chiang Rai.
"He was a natural leader," Nopparat said.
"He was focused in training and was an example to his friends and the younger boys. He went on tryouts and received a scholarship to study in England, which was the last place he got to go.
"It was a dream of his to play football overseas."