Israelis protesting against a contentious government plan to overhaul the judicial system were stepping up their opposition on Wednesday, with large demonstrations expected in what protest leaders have dubbed a "national disruption day".
The demonstrations come as the government barrels ahead with the legal changes.
A parliamentary committee is moving forward on a Bill that would weaken the Supreme Court.
The Knesset also is set to cast a preliminary vote on a separate proposal to protect Prime Minister Benjamin Netanyahu from being removed from his post over calls that he cannot serve as premier while on trial for corruption.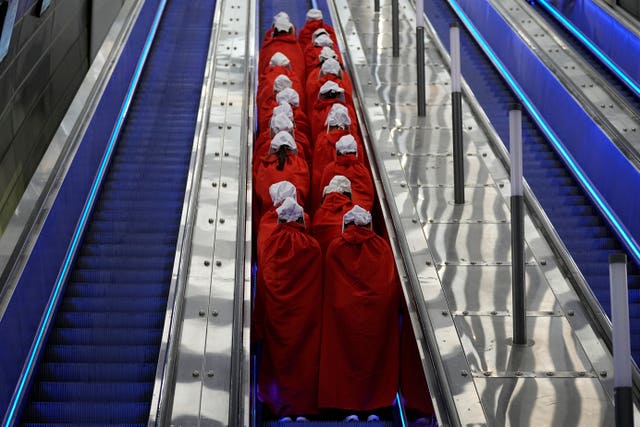 Protesters blocked Tel Aviv's main freeway artery and the highway connecting the city to Jerusalem early on Wednesday, halting rush hour traffic for about an hour.
At busy train stations in Tel Aviv, protesters prevented trains from departing by blocking their doors. Police said several protesters were arrested for disturbing the peace.
Near a popular mall and main train station in the seaside metropolis of Tel Aviv, police arrived on horseback and hurled stun grenades at protesters on the road who chanted "democracy" and "police state". Several protesters were arrested.
In response, National Security Minister Itamar Ben-Gvir, an ultranationalist, called on police to prevent the road blockages, labelling the protesters "anarchists".
Thousands of protesters came out in locations across the country waving Israeli flags. Parents marched with their children, tech workers walked out of work to demonstrate and doctors in scrubs protested outside hospitals.
The main demonstrations were expected later on Wednesday outside the Knesset and near Mr Netanyahu's official residence in Jerusalem.
The legal overhaul has sparked an unprecedented uproar, with weeks of mass protests, criticism from legal experts, business leaders and the security establishment — as well as concern from international allies.
Justice Minister Yariv Levin, the overhaul's main architect, said that the coalition aims to push through some of the judicial overhaul bills into law in the coming month, before the parliament goes on recess for the Passover holiday on April 2.
The clash comes as Israel and the Palestinians are mired in a new round of deadly violence and as Mr Netanyahu's government, its most right-wing ever, is beginning to show early cracks just two months into its tenure.
Neither side appears to be backing down. The government has dismissed calls to freeze the overhaul and make way for dialogue and the protest organisers have pledged to intensify their fight until the plan is scrapped.
The government says the changes are meant to correct an imbalance that has given the courts too much power and allowed them to meddle in the legislative process.
They say the overhaul will streamline governance and say elections last year, which returned Netanyahu to power with a slim majority in parliament, gave them a mandate to make the changes.