Serbia's police have arrested five men on suspicion of calling for the violent overthrow of the Balkan country's president during a protest a day earlier, and of arms possession.
The arrested men, some with alleged links to Russia's private military Wagner Group, took part in a protest on Wednesday evening of far-right, pro-Russian groups demanding that the populist president, Aleksandar Vucic, rejects a Western plan on normalising ties with Serbia's breakaway Kosovo province.
The protesters gathered in front of the presidency building in downtown Belgrade, carrying banners that read "Kosovo is the heart of Serbia", "No surrender", and "Betrayal of Kosovo is betrayal of Russia".
They blocked traffic and at one point tore down a metal fence in front of the presidency shouting: "Where is Vucic?" Some hurled eggs at the building.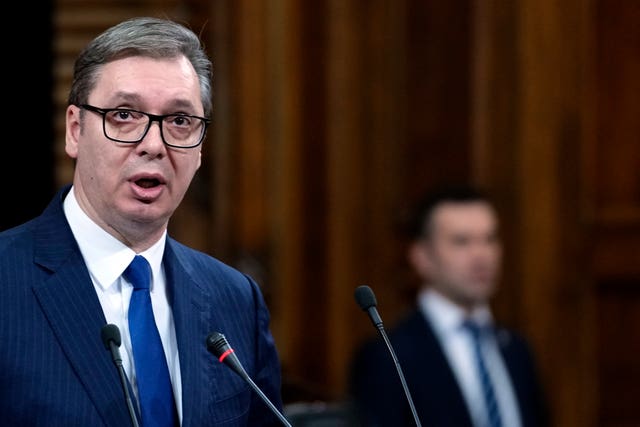 The interior ministry said the five men were arrested on Thursday on suspicion of calling "for the violent overthrow of the government and the president of Serbia, as well as the possession of weapons and explosive materials".
Mr Vucic on Wednesday accused the protesters of being anti-Serbian and receiving funding and support from "a foreign country," apparently referring to Russia.
"Do you really think it's possible, you think there won't be an answer to that? The state will react very efficiently, very quickly, very seriously and very responsibly," he said.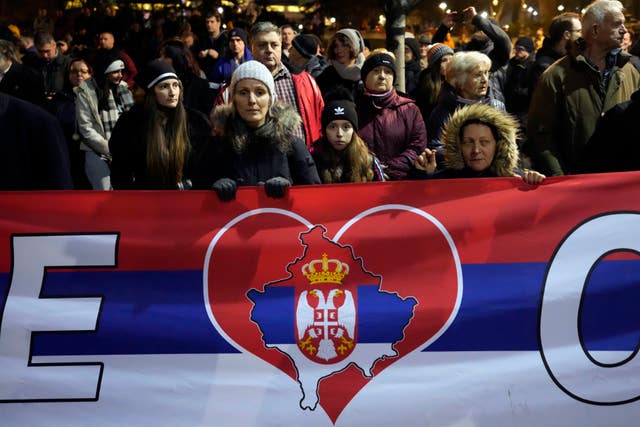 "We strongly condemn the threats sent from the gathering that took place last night near the presidency of Serbia," he added.
The protest come amid efforts by US and European Union officials to mediate a solution for the long-standing dispute between Serbia and Kosovo, a former Serbian province whose 2008 declaration of independence Belgrade does not recognise.
Serbia has relied on its traditional Slavic ally, Russia, as well as China, in its refusal to acknowledge Kosovo's independence, which is backed by Washington and most EU countries.
Western officials fear Russia could use simmering tensions in Kosovo to try to destabilise the Balkans and avert some attention from the invasion of Ukraine.
Mr Vucic has said he is ready to consider the Western plan. Its provisions have not been published but it reportedly stipulates that Serbia would not object to Kosovo's membership in international institutions, including the United Nations, while Serbia would get a faster track toward membership of the EU.