Philippine troops and police have forcibly evacuated residents of five villages vulnerable to landslides after the collapse of a mountainside buried dozens of homes and killed at least 29 people.
Some residents left on their own, but the bulk of more than 1,200 people in villages near the area were forced to move by authorities on Thursday night, police Chief Superintendent Debold Sinas said.
Survivors heard a thunderous roar, crashing and banging when the mountainside fell on to rural houses and shanties in two villages in Naga city on Thursday morning.
Distraught relatives begged for more diggers to be brought to the mound of earth and debris, where they hoped loved ones could be pulled out alive, but there were far too few machines to dig for the dozens of people missing.
Resident Nimrod Parba said one of his trapped relatives called for help about three hours after the landslide hit, entombing 13 of his family. "They are still under the rubble, they are still there. They are covered in shallow earth, we need a backhoe."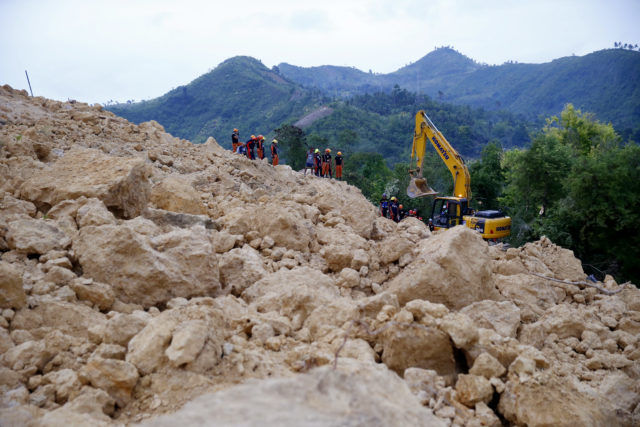 Authorities have limited the number of rescuers and other people inside the stricken villages, fearing heavy rain on the loose and soaked ground could cause new slides.
Thursday's landslide also covered part of a river, prompting officials to order a temporary canal to be dug.
About 270 government troops and police were deployed to prevent residents from returning to high-risk villages, Mr Sinas said.
The landslide in the central region occurred as parts of the far northern Philippines deal with damage from a typhoon that hit last weekend.
At least 95 people were killed and more than 50 are missing, many in the gold-mining town of Itogon where landslides hit houses and a chapel where people had gathered in the storm.
Cebu province was not directly hit by Typhoon Mangkhut but the storm intensified the seasonal monsoon rains that normally fall in tropical Asia.
It is not clear what set off the landslide, but some residents blamed limestone quarries, which they suspect may have caused cracks in the mountainside facing their villages.