Regulators have given the go-ahead for the Rosebank oil and gas field to start developing and producing fossil fuels, angering environmentalists and some MPs.
The Government has said it will boost the economy and energy security with the North Sea Transition Authority (NSTA) – the body that approves oil and gas licences, which is tasked with "maximising the economic recovery" of oil from the North Sea – having given its consent for Rosebank to be developed.
Why is Rosebank going ahead and why is there such opposition? The PA news agency looks into the controversies around the oil and gas field, why some believe it should progress and why others believe it should be scrapped.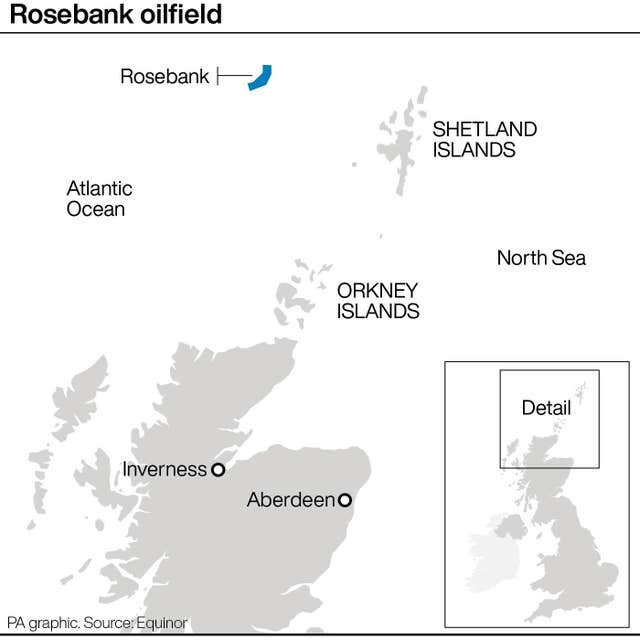 The UK Government has said energy security is one of its "greatest priorities" and mentioned the term 40 times in its Powering Up Britain report published earlier this year after establishing the Department for Energy Security and Net Zero (Desnz).
Despite this, it has been unable to provide a clear definition of what energy security means, implying that it could signify a more reliable energy supply for the UK, increased self-sufficiency or using fossil fuels as a stop-gap while renewable power is built up, though without committing to either explanation.
The International Energy Agency (IEA) defines it as: "The uninterrupted availability of energy sources at an affordable price."
– Why is Rosebank so controversial?
Opponents of its development believe that uninterrupted availability of affordable energy could and should come from renewable sources, while the Government and the oil and gas industry say abandoning North Sea reserves would only result in greater dependence on foreign oil producers.
Rosebank is thought to contain up to 350 million barrels of oil, according to owners Ithaca Energy and Equinor, who say it is capable of producing 69,000 barrels a day – about 8% of the UK's projected daily output between 2026 and 2030 – and 44 million cubic feet of gas per day.
Currently the UK imports around half of its gas, mostly from Norway, which also provides around half the amount of oil the UK imports.
Russia was the largest source of refined oil until the Ukraine invasion, and the UK Government says developing more North Sea oil and gas will further offset this dependency while protecting consumers from volatile international price hikes.
On the other side, many researchers, campaigners and opposition MPs say rapid development of renewables would better protect consumers as they would not need oil and gas to power their cars and homes, adding that clean power also has the benefit of not producing emissions that are heating the planet to dangerous levels.
– Will Rosebank lower bills?
The owners say it is expected to start producing in 2026-2027 so there will be no immediate relief for consumers in the current energy crisis.
As oil and gas prices are set internationally and as much as 80% of the oil produced is expected to be sold outside the UK, Rosebank is unlikely to have any significant impact on consumer bills in future either, having "at most, a marginal effect", according to the Climate Change Committee (CCC).
– How many jobs will it provide?
Ithaca and Equinor say Rosebank will support around 1,600 jobs at its peak during construction and around 450 over the long term.
They also said the project is estimated to create £8.1 billion of direct investment, of which £6.3 billion is likely to be invested in UK businesses.
– How does it fit in with the Government's net zero plan?
Planned electrification of North Sea rigs means they will increasingly draw their power from renewable energy sources, therefore fitting in with how the UK Government counts its emissions reductions to net zero.
The emissions from the oil and gas once burnt are not included in the Government's net zero calculations.
North Sea reserves are declining regardless of political decisions, with the Government wanting to use what is available.
Labour has said it would not grant any new licences if it wins the next election but would honour those already in place – including Rosebank.
– How will these emissions affect the rest of the world?
The CCC, which advises the Government on how to reach net zero, said it is very difficult to understand how this extra fuel would affect global markets, whether it would add to consumer demand or replace oil and gas produced in other countries.
This is because of the complexities of climate policies in various countries aiming to phase out fossil fuels as well as the volatility of the international market.
The IEA said in its global pathway to net zero by 2050, published two years ago, that no new oil, gas or coal is needed, though it did not single out specific projects such as Rosebank.