The mother of a 15-year-old boy who died when his e-bike collided with an ambulance after he was followed by police has said he was the sweetest, kindest boy ever.
Saul Cookson was riding the bike in Salford, Greater Manchester on Thursday when traffic officers began following him.
He was pursued along Fitzwarren Street and Lower Seedley Road at about 2pm before the police vehicle was blocked by bollards, Greater Manchester Police said.
He was treated by the ambulance crew inside before being taken to hospital, where he died later that day.
In a tribute issued through police, his mother Emma Frendo said: "Saul was a much-loved son, brother, grandson, and nephew, loved by all that met him.
"He was the sweetest, most kindest boy ever, and always had the biggest infectious smile and was full of love."
His family also asked for their privacy to be respected.
The incident has been referred to the Independent Office for Police Conduct (IOPC) "in line with normal proceedings" and the watchdog is now leading the investigation.
There is "no indication at this early time in our investigation of direct physical contact" between the e-bike and police vehicle but investigations continue, it added.
IOPC regional director Catherine Bates said: "My heart goes out to Saul's family and loved ones, as well as all those affected by his tragic death.
"Our investigation will be thorough and independent of the police.
"It is important that we understand the events leading up to this incident and will be looking at the actions and decision-making of police prior to the collision, including the reason for the decision to follow the bike.
"It is likely that members of the community will have seen the collision, or events leading up to it, and I would urge anyone with information to speak to us.
"We are particularly keen to hear from anyone who saw, or has footage of, the bike or police vehicle prior to the collision."
Flowers and candles with tributes to the teenager have been laid at the scene.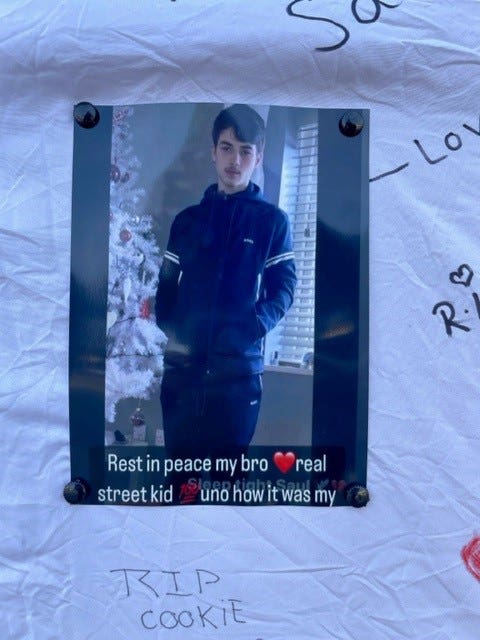 His sister said on Facebook: "Words cannot describe my feelings at the moment. Rest in peace Saul, I love you."
His friend Mitchell Murden, 21, who said he had been due to meet him on the day he died, said "the majority" of young people in the area had e-bikes.
He described Saul as "a good lad" who "kept himself to himself".
A relative of the teenager, who attended the scene to lay flowers, said the family was "a mess".
Family friend Jacob Bailey, 19, said: "I've known Saul since he was born. He was just one of those proper nice kids. No-one had a bad word to say about Saul.
"I just don't believe it. He had so much to live for and in the blink of an eye it's just all … 15 is no age, is it?"
Mr Bailey said he went to the hospital after finding out the identity of the boy, saying: "It was bad times to see his parents there in bits."
Neighbour Karen Cosgrove said she had passed the scene at about 2.30pm on Thursday and saw the boy lying on the ground.
She added: "I walked away, I could barely look at it. His mum was there, she was screaming. Everyone's in shock."
A GoFundMe page has been set up to raise £3,000 for his funeral, which had raised more than £2,100 by Friday morning.
Greater Manchester Police said: "In line with normal proceedings, the incident has been referred to the IOPC who are now leading the investigation.
"Our thoughts are with the family and friends of the boy who tragically died."
It comes after 15-year-old Harvey Evans and 16-year-old Kyrees Sullivan were killed in an e-bike collision after being followed by a police van in Cardiff last month, sparking a riot.
A North West Ambulance Service spokesman said on Thursday: "An ambulance was involved in a collision with a young person, who was riding an electric bike, on Langworthy Road in Salford at around 2pm this afternoon.
"The patient received medical treatment immediately by the ambulance crew and was transported to hospital, where he sadly later died.
"We are participating fully in the police investigation.
"We would like to extend our deepest condolences to the young person's family."
Contact the IOPC on 0300 303 5568 or email langworthyroad@policeconduct.gov.uk with information.