Farmers, undertakers and elected politicians are among the occupations most dependent on older workers, new figures suggest.
Some 42% of farmers in England and Wales said they were aged 60 years or over at the time of the 2021 census, along with 28% of people working as undertakers or mortuary and crematorium assistants.
Nearly a third (30%) of members of the clergy, such as vicars and bishops, were at least 60 years old, similar to caretakers (29%) and typists (31%).
But the largest proportion was among elected representatives – anyone whose main job is being paid to hold an elected office, from local councillor to Member of Parliament – where just over half (52%) were aged 60 or over, and nearly two in five (38%) were 65 or above.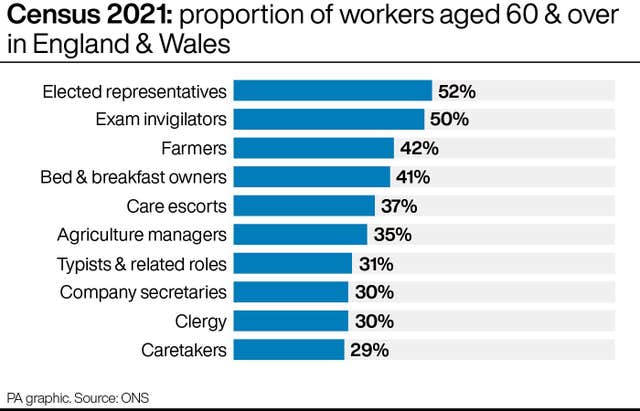 They show that farmers have a particularly old age profile as an occupation, with fewer than 11% aged under 30 and almost a third (29%) aged at least 65.
Across the whole working population, only 4% of people are aged 65 or above.
Farming is also the occupation with the highest UK-born workforce (98%).
The census counted farm workers separately, and among this group – who may do more of the physical labour – the ONS found nearly a quarter of people (23%) were aged under 25.
"An occupation with an older age profile could pose challenges for labour supply in the future if not enough young people go into that type of work," the ONS said.
While nearly three in 10 (28%) of people working as undertakers and mortuary or crematorium assistants were aged 60 or above, only one in 10 (10%) were under 30.
Typists and other related keyboard roles "appears to be a dying profession", with 60% of people doing this job aged 50 or over – almost double the proportion for the whole workforce (33%).
By contrast, data entry jobs, which also involve routine keyboard work, were mostly held by younger people, with 41% under the age of 35 – higher the equivalent figure (33%) for the whole workforce.
Occupations involving printed information, such as librarians, library assistants or print finishers and book binding workers, were generally older in age profile, with about half of people in these roles aged 50 or over.
Jobs involving data analysis had a much younger age profile, however.
About half of people employed as a data analyst told the census they were under the age of 35, with a similar picture for actuaries, economists and statisticians.
Some skilled manufacturing trades had an older age profile, with nearly half of upholsterers (49%), footwear and leather workers (47%) and glass and ceramic makers (47%) aged 50 or more.
But a higher proportion of people aged 60 years or older in certain less skilled roles "could point to a return of a preference for part-time work later in people's careers", the ONS noted.
One example are exam invigilators, about half of whom were 60 or over at the time of the census.
The top 10 most common jobs for people aged 55 to 59 years old were also often lower paid roles, such as street cleaners or other "elementary cleaning occupations".
At the youngest end of the age range, 16-24 year-olds made up about half of workers in some hospitality roles including waiters and waitresses (50%), bar staff (48%), and coffee shop workers (48%).
"The tendency of young people to hold these types of job, and work in hospitality and retail, may have left young people especially open to job losses and being unable to work during the coronavirus pandemic," the ONS added.