Rishi Sunak will travel to Washington next week for talks with Joe Biden.
The two leaders are expected to discuss trade issues – although the idea of a full-blown deal has fallen by the wayside since the US President replaced Donald Trump in the White House – as well as the war in Ukraine.
The White House said Mr Sunak and Mr Biden would also discuss the situation in Northern Ireland.
The Prime Minister's official spokesman said: "The visit will be an opportunity to build on discussions the Prime Minister and President Biden have had in recent months about enhancing the level of co-operation and co-ordination between the UK and US on the economic challenges that will define our future, including securing our supply chains and transitioning to zero-carbon economies.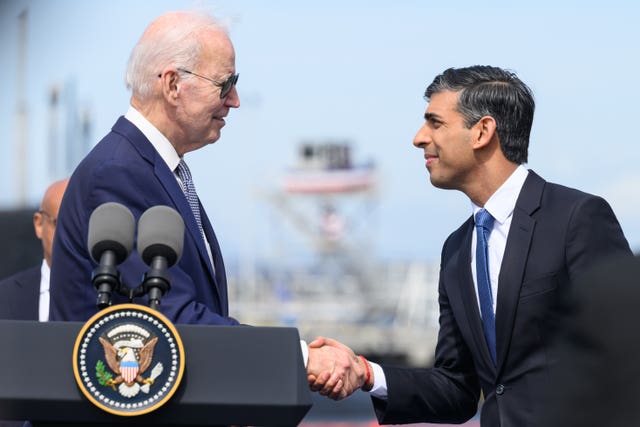 Mr Sunak will fly to the US on June 7 and is due to visit the White House the following day.
White House press secretary Karine Jean-Pierre said: "Building on their recent engagements, the two leaders will review a range of global issues, including their steadfast support for Ukraine as it defends itself against Russia's brutal war of aggression, as well as further action to bolster energy security and address the climate crisis.
"The president and the Prime Minister will discuss efforts to continue strengthening our economic relationship as we confront shared economic and national security challenges.
"They will also review developments in Northern Ireland as part of their shared commitment to preserving the gains of the Belfast/Good Friday Agreement."
During the visit Mr Sunak will also meet congressional figures and US business leaders.
Although a full-blown free-trade agreement (FTA) between the UK and US is not on the agenda, the Government is pushing to address specific trade issues and is also seeking closer partnerships with individual states including economic powerhouses California and Texas.
"We know that no trade partnership is more important than the one we have with the US, it's our largest trading partner.
"It's worth remembering the trade relationship, as it currently stands, is worth £279 billion already. We have achieved all of that without an FTA."
Trade agreements have already been signed with North Carolina, South Carolina and Indiana, and the UK is speaking to Utah, Oklahoma, Texas and California.
The two leaders have met frequently in recent months.
Mr Sunak travelled to the US in March for a meeting in San Diego with Mr Biden and Australian leader Anthony Albanese to agree the Aukus submarine pact, and the Prime Minister and the US President also met in Belfast in April.
Mr Sunak and Mr Biden both attended the G7 summit in Japan and are expected to be at the gathering of Nato leaders in Lithuania in July.