Protesters are taking to the water at 12 bathing spots around the UK to demand an end to sewage discharges into the country's seas and rivers.
Surfers Against Sewage (SAS) organised the demonstration which was led by paddle-boarders, kayakers, swimmers and paddlers at Brighton beach in East Sussex.
Other locations include Tinside Beach East, Plymouth Hoe, and Gyllyngvase beach, Falmouth, South Bay in Scarborough, Portobello Beach in Edinburgh and Penarth Pier Pavilion.
The charity is calling for bathing spots to be protected from discharges and a 90% reduction in sewage discharges by 2030.
Earlier this week, the industry trade body Water UK announced a £10 billion plan to reduce the number of sewage discharges into rivers and seas, while apologising for the pollution and warning that bills would rise to cover the costs.
SAS released survey data earlier this month suggesting 85% of people supported a ban on bonuses for CEOs who failed to hit minimum environmental standards, with trust in water companies at 21% among UK adults.
Izzy Ross, SAS campaigns manager, said: "The public at large are sick and tired of greed taking precedence over the health of our ocean.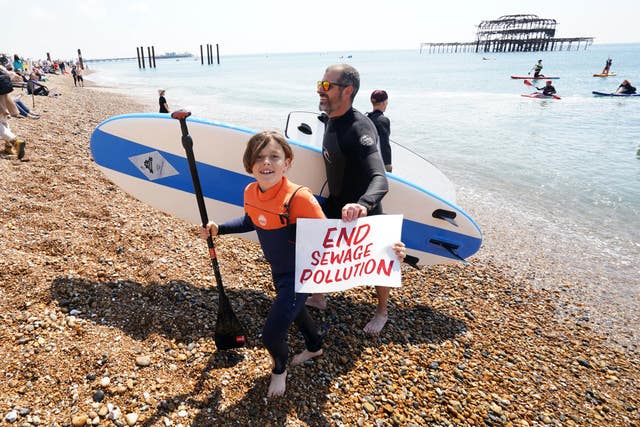 "Last year, 12 water companies paid out a combined £1 billion to shareholders whilst relentlessly polluting UK waterways with sewage nearly 400,000 times.
"We will not tolerate their shameless exploitation of our blue spaces any longer.
"Our research shows that trust in water companies is at rock bottom and an overwhelming majority of the UK public call for an end to the excessive bonuses given to water industry fat cats whilst failing to meet even basic environmental standards.
"We refuse to remain silent while water companies ruin our beloved blue spaces."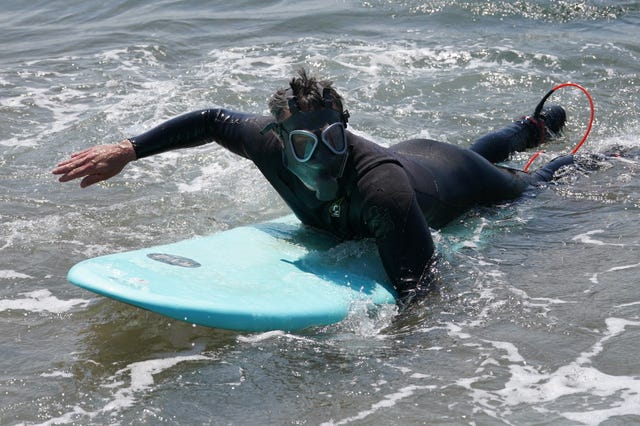 The board features two transparent windows, where brown sewage water is visible.
Other protest locations are Bedford, Ballyronan Marina in Northern Ireland, Saltburn Pier, North Yorkshire, Essex Bridge, Shugborough, Appley Beach, Isle of Wight, Borrans Park, Ambleside, Windermere, and Warleigh Weir.
SAS is also urging people to sign its petition which has gained more than 114,000 signatures at https://www.sas.org.uk/dirty-money-england/.