There is no doubt Russia has "the intent and the ability" to target the West's underwater energy and communication lines, Ben Wallace said as he launched a security partnership with Norway.
At a press conference alongside his Norwegian counterpart at the Northwood military base on Thursday, the Defence Secretary said Moscow has submarines and spy ships "specifically designed" to "potentially sabotage or attack critical national infrastructure belonging to its adversaries".
Mr Wallace and Norwegian defence minister Bjorn Arild Gram signed a statement of intent to increase cooperation on countering undersea threats in the wake of last year's attack on the Nord Stream gas pipeline.
While the Ministry of Defence did not name Russia in its release about the agreement, Mr Wallace left little doubt as to where the threat is emanating from.
"It has a number of submarines and other pieces of equipment and spy ships and everything else specifically designed for that purpose.
"So whether we are talking about Nord Stream, whether we are talking about our own infrastructure, that is an area that is vulnerable and needs to be protected."
He added: "What we can say without doubt is Russia has the intent and the capability to target the West's critical national infrastructure. We have to have the intent and the capability to defend it."
Asked whether he was aware of any underwater cables already being sabotaged, the Cabinet minister said any speculation on the UK's levels of knowledge on Russian activities would only help the Kremlin.
"We have to be alert to the deliberate programme that the Russians have invested in, we must do the same," he said.
Mr Gram noted the difficulty of guaranteeing that no infrastructure has been undermined as "we have almost 9,000 kilometres of gas pipelines on the bottom of the sea".
Neither Mr Wallace nor his Norwegian counterpart would comment on whether Russia was linked to the Nord Stream pipeline explosions, which are still under investigation.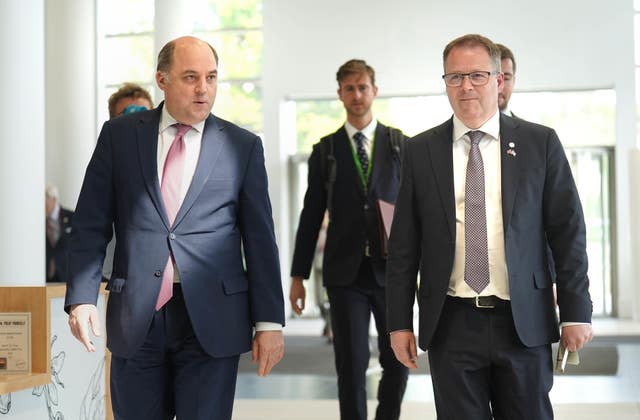 The agreement also bolsters the development of better technology to protect shared interests in the North Sea while streamlining the process for other allies to join their activity, according to the Ministry of Defence.
They have already jointly increased security patrols in the region where the unexplained blasts occurred.
From July, the Royal Navy's new multi-role ocean surveillance vessel RFA Proteus will go to sea to help protect critical infrastructure, Mr Wallace said.
"I fully expect a large part of the area that it will patrol will be Norway and the United Kingdom, the area where our gas pipelines are, where our wind farms are, where our electronic cables and optic cables are," he said.
Four leaks were discovered last September on the Nord Stream 1 and 2 gas pipelines that run from Russia to Germany through the Baltic Sea.
The pipelines were not operational at the time because of disputes between Russia and the European Union over Moscow's invasion of Ukraine but were filled with natural gas.