Northern Ireland's budgetary position is looking "extremely bleak", the former Stormont finance minister has warned.
With the ongoing collapse of the Stormont Assembly, the region's budget is being set by Secretary of State Chris Heaton-Harris while senior civil servants run departments in the absence of ministers.
The political parties entitled to seats on the Stormont Executive received a briefing on the latest position from the head of the Northern Ireland Civil Service Jayne Brady at Stormont Castle on Wednesday.
Former finance minister and Sinn Fein MLA Conor Murphy said the UK Government had an opportunity to offset some of the deficit by spreading it over a number of years, but instead opted for a "punishment budget".
"Public services are already on their knees as a consequence of 12 years of austerity, the whole experience of the pandemic," he said.
"What they have taken is the most hard, tough budget possible, which is going to do very, very significant damage."
Mr Murphy also spoke of frustration at attending briefings instead of being in office and able to take decisions to try and protect public services.
He criticised the DUP for its position refusing to participate in devolved government until its concerns around the Northern Ireland Protocol are addressed.
"It's long past time this nonsense ended in relation to the DUP wandering around talking to themselves while the rest of us suffer the consequences of all of that," he said.
"We need an Executive back in place, we need to be trying to take these decisions ourselves to offset the damage the Tory government are going to do to public services."
"The reality is that because of the failure to set a budget last year, there was time but the Sinn Fein finance minister failed to get support for a budget, and that meant there was a £300 million overspend last year," he said.
"That's now being deducted from this year's budget and that's what's creating the really difficult financial situation that we find ourselves in."
He added: "You're right in saying that there's a budgetary crisis but re-entering the executive in and of itself does not fix that, as I've set out there is a £300 million shortfall from last year.
"That's an issue that will need to be dealt with one way or the other and it's up to the Government to help us out with that."
Mr Lyons also called on the UK Government for "flexibility" in repaying the overspend.
"If the Government was willing to work with us, if they were prepared to show some flexibility in terms of the repayment of that amount of money, it would make the issues that we are dealing with right now much easier to deal with, but instead we have £300 million that needs to be cut from the budget this year," he said.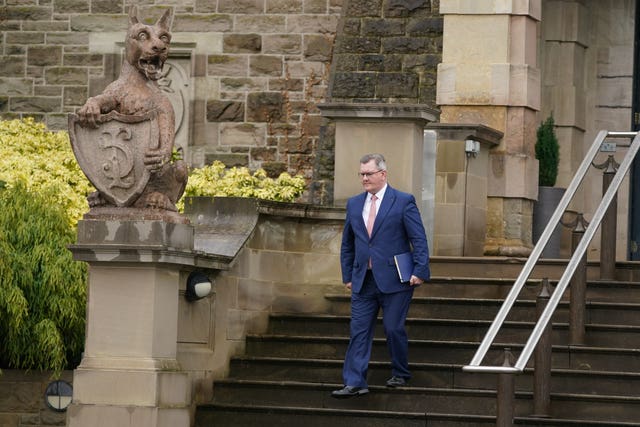 "Ultimately, the legislation around the budget will come to Westminster, and we'll be there to put our case for Northern Ireland and make the points we need to make in terms of securing the funding that Northern Ireland needs at this time," he said.
"The Northern Ireland Office needs to look again at their demand that the overspend from last year is repaid this year, normally such matters are dealt with over a longer period of time, and that would ease the pressure on Northern Ireland departments, so we will be engaging with the Secretary of State on the need to ensure that we have a budget that ensures the Northern Ireland departments are able to deliver the public services that people need here."
"We haven't yet got a budget for this financial year, we are expecting one towards the end of April," he said.
He added that without a functioning Executive civil servants are left in a "virtually impossible situation" in trying to manage departments and public services.
"From our perspective, we believe the only way through this is some form of financial package for Northern Ireland," he said.
"We have to find something to break this vicious cycle. So, we believe the five parties should be meeting with the Government trying to hammer out some financial package for Northern Ireland."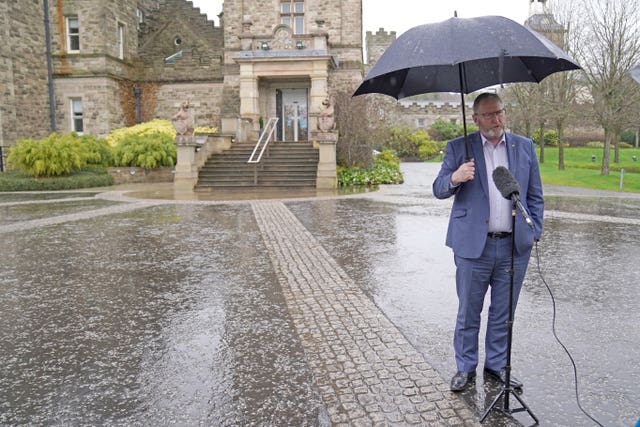 "We were talking about an indicative budget, the numbers have been given out and some departments will have to have cuts of up to 10%, and those aren't sustainable," he said.
"It's quite clear that our budget is not going to be able to meet what we need in the next financial year."