Rishi Sunak did not repeat Suella Braverman's focus on British-Asian grooming gangs as he promised victims of child sexual exploitation will no longer be "ignored" due to cultural sensitivity and political correctness.
Downing Street sought to emphasise that an "evidence-based" approach will be taken to tackle "all aspects" of the issue when challenged over the Home Secretary's comments singling out British Pakistani men despite research finding no clear link between gang members and ethnicity.
The Prime Minister and Home Secretary were in northern England on Monday to announce a new set of measures, including a new police taskforce of specialist officers, tougher sentences, a consultation on mandatory reporting for adults working with children, and the collection of ethnicity data to assist police probes.
The announcements came as the Prime Minister was attempting to portray his party as tough on crime just over a month before the May local elections.
Asked if the focus on British-Asian grooming gangs was appropriate, Mr Sunak told broadcasters: "All forms of child sexual exploitation carried out by whomever are horrific and wrong, but with the specific issue of grooming gangs we have had several independent inquiries look at the incidents here in Rochdale, but in Rotherham and Telford.
"What is clear is that when victims and other whistleblowers came forward their complaints were often ignored by social workers, local politicians, or even the police.
"The reason they were ignored was due to cultural sensitivity and political correctness. That is not right."
He said the new measures would "make a big difference in helping us root out the evil perpetrated by grooming gangs".
Ms Braverman drew criticism for repeatedly alluding to cases including in Rotherham and Rochdale that involved groups of men of mainly Pakistani ethnicity during media appearances on Sunday.
She pointed to a "predominance of certain ethnic groups – and I say British Pakistani males – who hold cultural values totally at odds with British values, who see women in a demeaned and illegitimate way and pursue an outdated and frankly heinous approach in terms of the way they behave".
Her language was criticised by some campaigners, with the NSPCC emphasising that only considering race could create new "blind spots".
Following accusations of "dog whistle" politics, Ms Braverman on Monday insisted "it's not racist to tell the truth" about grooming gangs.
The Home Secretary told GB News: "It's important not to demonise a whole community and the vast majority of British Pakistanis are law-abiding and straightforward people, but it is also clear to say that in these towns … there have been cultural trends in the practices that we've seen and authorities and professionals have turned a blind eye out of fear of being called racist."
No 10 defended her remarks but stressed a lack of evidence linking child exploitation and ethnicity.
Mr Sunak's spokesman told reporters: "What she said was that some of these gangs were largely made up of British Pakistani men. I believe that is factually accurate."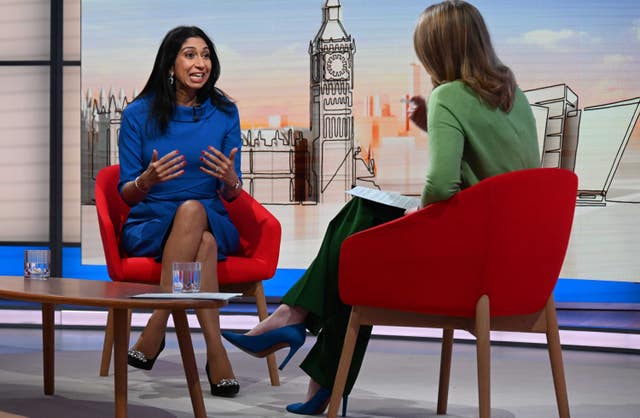 "So what we want to do is take an evidence-based approach, use the data that has been gathered since April 2022 more effectively to help support the police in their task."
The 2020 research found most group child sex offenders are men under the age of 30 and the majority are white, while adding there is not enough evidence to suggest members of grooming gangs are more likely to be Asian or black than other ethnicities.
Pressed over concerns that an overfocus on race could lead to an inadequate response to grooming gangs, the official said: "The Prime Minister's view is that we should not shy away from calling out any issues wherever they occur. But this data will help inform that approach."
Sir Keir Starmer agreed that "ethnicity is not a reason not to come down hard", but noted that the Government "needs to recognise that that's a small proportion of the cases we're dealing with".
Speaking during a visit to Hartlepool, the Labour leader said: "There's been a frustration here with the Government because for a decade we've been calling for stronger measures, things like mandatory reporting, and the Government's turned a blind eye."