A judge has "emphatically" rejected accusations emailed into the court by Irish teacher Enoch Burke, which suggested he was "mocked" and "ridiculed" in the Dublin court earlier in the week.
Mr Justice Alex Owens said that Mr Burke's behaviour before the High Court on Tuesday, where he raised concerns about discovery documents and redactions with in it, was "unacceptable".
"I felt I was being dealt with unfairly by Mr Burke," he said on Friday morning. "It's necessary to call a spade a spade, one can be too polite about these things."
As closing statements continued, the court was then told that Mr Burke and his sister Ammi were outside the Four Courts.
The judge adjourned proceedings to allow for Mr Burke to be invited once more to take part, if he obeys the court's rules.
Mr Burke read out a statement outside the Four Courts, which appeared to be the same email he submitted to the court, alongside his mother Martina and sister Ammi, while his brother Isaac recorded it.
After the statement was read out, they walked away from the Four Courts complex.
Mr Burke has not been in the courtroom since Tuesday afternoon after Mr Justice Alex Owens warned him that he could only return if he accepted the authority of the court he was appearing before.
The judge has repeatedly directed the legal team representing Wilson's Hospital School to inform Mr Burke that he is welcome to attend court under this condition, and can watch proceedings online otherwise.
Since Tuesday afternoon, the court had not heard from Mr Burke on how he intends to be involved in the case until an email was sent to the court and Mr Burke and his family appeared outside the Four Courts.
The case has continued without Mr Burke or a legal representative for him being present, with witnesses called by the school without cross examination.
The board of management of Wilson's Hospital School and Mr Burke are in a dispute that stems from incidents following a request from the school's then-principal last May to address a student by a new name and the pronoun "they".
Mr Burke, an Evangelical Christian, maintains the case is about the freedom to express his religious beliefs.
On Friday morning, the judge indicated that witnesses who were present because they had been subpoenaed by Mr Burke could leave, as he was not present to call them, and that the case had closed.
Representatives for the school were delivering closing statements when the judge was informed that Mr Burke had sent in a "big, long" email, and proceedings were adjourned to allow for the email to be printed off.
Mr Justice Owens then read out the email sent in by Mr Burke, where he claimed he had been "unjustfully barred" and made an application for the digital audio of proceedings.
He also repeated concerns he had raised on Tuesday and claimed that when he brought up these issues in court "I was repeatedly laughed at" and "mocked and ridiculed by the judge".
He also said that he had gone to the home of the chairman of the board of management, John Rogers, on several occasions over the weekend, and on the evening before the case began.
The court heard that he went to his home at 10.50pm on Monday in order to furnish him with a subpoena, and that Mr Rogers' wife had refused to tell Mr Burke where he was.
Mark Connaughton SC, representing Wilson's Hospital School, rejected Mr Burke's accusation that Mr Rogers was attempting to avoid a subpoena.
He said that he had already told the court days previous that Mr Rogers had been admitted to hospital, and that this would affect him appearing as a witness on behalf of the school.
Mr Connaughton said that Mr Burke's email gave "no credit", except for a short few paragraphs, to the detailed response given by his colleague Alex White SC to the concerns brought up by Mr Burke on Tuesday, despite "the poisonous way" in which they were raised.
Concluding the discussion about the email, Mr Justice Owens said: "You can't hope to win a game of soccer by running away with the ball."
He said that the ball has been replaced and the game continues, "if I can use that metaphor".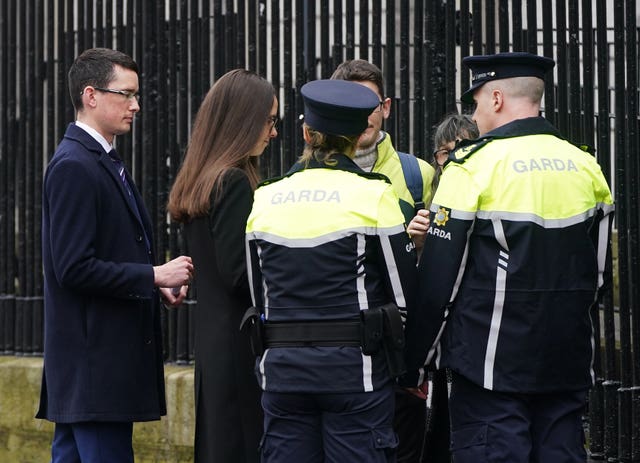 The court was adjourned to allow a message to be conveyed to Mr Burke that he was welcome to attend the court if he obeyed its rules.
After the recess, Mr Connaughton said gardai had "succeeded in making contact with Mr Burke" before he left and told him exactly what was communicated by the court, that he could return if he complied with the court's direction.
During his closing statement, Mr Connaughton told the court that the decision by the board of management to place Mr Burke on paid leave pending the disciplinary hearing, which had originally been scheduled for September 14, was "entirely bona fide and for a valid reason", and "unassailable".
He also said the "lawful instruction" to place him on administrative leave was "plainly disobeyed" by Mr Burke.
Mr Connaughton told the court there was no indication of any tainting of the independence of the board or any influence on it to take any particular action.
He also said it was "a nonsense to say he didn't have an opportunity to say his case".
Mr White responded to Mr Burke's written claims that his constitutional right had been impinged in the process. He said "no constitutional rights exist in a vacuum, as it were", and argued that others have constitutional rights, such as students.
He "entirely rejected" that the disciplinary actions against Mr Burke "had anything to do with, as it were, a punishment or a penalisation" because of any particular views he holds.
He said it was the school's view that Mr Burke has the right to express his religious beliefs, but that right does not extend "to act without limit or constraint".
Mr Justice Owens said he would deliver a judgment shortly, and interlocutory injunctions should continue until it is delivered.