The Chancellor has been accused of prioritising crumbling roads over the "crumbling social care and health system".
Charities have complained that carers and the homeless were ignored in the Budget on Wednesday.
As part of his announcements, Jeremy Hunt said £500 million allocated to dealing with potholes would be increased by a further £200 million next year to help communities "tackle this problem".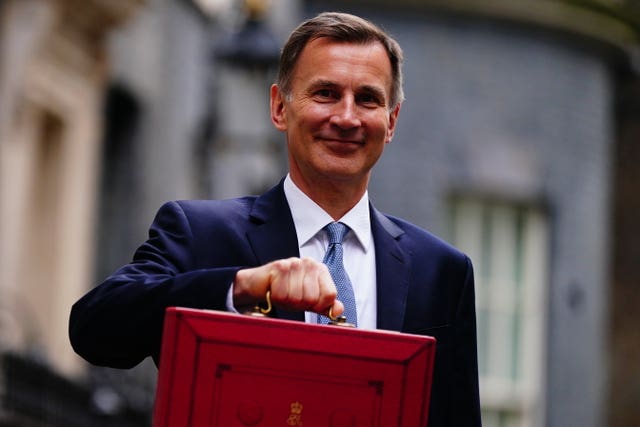 She added: "Instead, the Chancellor prioritised crumbling roads over the crumbling social care and health system."
Echoing the comments, Age UK said it was "deeply frustrated that the Chancellor spurned the opportunity to invest more in social care, especially given his avowed aim of removing the barriers to work among those who are economically inactive in the absence of a good, reliable and affordable care service being available".
The older people's charity warned: "Unless and until the Government acts on social care, the numbers of people in their 50s and 60s leaving the workforce to care are certain to grow.
"It's true that the Chancellor directed more funding to social care in his autumn statement but it was only a down payment on the greatly increased investment this essential service needs for the foreseeable future, given our growing ageing population.
"If we at Age UK are profoundly disappointed about the way social care has been ignored in this Budget, the NHS must be more disappointed still, since our health services simply cannot function effectively for as long as our social care services are falling so short of the mark."
Kirsty McHugh of the Carers Trust said the Government had "once again ignored millions of unpaid carers across the UK, many of whom have been forced to cut back on hours or give up employment to care for loved ones".
While the organisation welcomed the £100 million funding announced to support thousands of charities and community organisations, it said the Government needed to do more to directly support unpaid carers.
Ms McHugh said: "If the Government finally put forward a long-term strategy to tackle the social care crisis, they would find an army of unpaid carers ready to fill job vacancies across the country.
"Instead, the can has been continually kicked down the road, Carer's Allowance remains the lowest benefit of its kind and millions of unpaid carers have been locked out of employment and denied support to live a fulfilling life outside of caring."
The Government has previously said it has made up to £7.5 billion available over the next two years to support social care services, and has promised to publish a plan for adult social care system reform this spring.
Mr Hunt was also accused of having "stuck his head in the sand" in the face of "spiralling homelessness".
Polly Neate, chief executive of Shelter, said: "Homelessness has almost doubled in the last 10 years and yet again we have a Budget that does nothing to help struggling renters who are drowning in debt and rapidly rising rents.
"It is outrageous that the Government has chosen to keep housing benefit frozen at 2020 levels when its own figures show rents have risen by more than 8% in this time.
"A massive growth in homelessness is surely not the type of growth the Government wants, so why is it ignoring this crisis? Sleeping rough or being shunted from hostel-to-hostel ruins people's lives and costs the economy more. This is the Government's final warning to introduce emergency measures to keep people in their homes – it must urgently unfreeze housing benefit."
Matt Downie, chief executive of Crisis, said the Government had "missed a crucial opportunity to pull thousands of people back from the brink of homelessness by investing in housing benefit".
He added: "The Government must urgently reconsider their approach and uprate housing benefit in line with the true cost of rents – otherwise we will see thousands more people forced out of their homes with nowhere to go."
Homeless Link also accused Mr Hunt of having failed to take an opportunity to address homelessness.
Its chief executive Rick Henderson said: "Without a full inflationary uplift for homelessness support, hundreds of services could still shut down altogether, despite the extra funding announced today.
"Not only will this leave people experiencing homelessness with nowhere to turn for accommodation and support, but those already housed may face the trauma of returning to the streets."
"They could have established a Ministry of Emergency, which should focus on keeping people out of the treacle of poverty, creating millions of well-paid carbon zero jobs needed both now and into the future, from healthcare to teaching, and ultimately support people so that they can continue to live in their own homes."
On homelessness, the Government has previously acknowledged there is "more to do to help families at risk of losing their homes and to end rough sleeping for good".
It has vowed to abolish Section 21 no-fault evictions and said it is investing £2 billion over three years to tackle the issue, allocated to areas with the greatest need.