Snowstorms are due to affect large parts of England, Wales and Northern Ireland on Thursday after the coldest March temperature in more than a decade was recorded overnight.
The Met Office has issued three amber warnings for "strong winds bringing blizzard conditions" and up to 16in (40cm) of snow for an area stretching from Stoke-on-Trent to Durham, as well as North Wales and Northern Ireland.
"Significant disruption" to transport including flights, power lines and phone network coverage is likely in the regions covered by the warnings.
The amber snow alert for England lasts for 21 hours from 3pm on Thursday and covers major cities including Liverpool, Sheffield, Bradford and Leeds.
Over Wales, the amber snow and ice warning is in place from noon until 9am on Friday, stretching from the north coast to Radnorshire.
The amber snow and ice warning in Northern Ireland covers Belfast and areas south of the city from 3pm on Thursday until 4am on Friday.
This comes after the coldest temperature of 2023 – minus 16C – was recorded at Altnaharra in the Highlands on Wednesday night.
Met Office forecasters said this was also the lowest March temperature seen in the UK since 2010, when minus 18.6C was recorded at Braemar in Aberdeenshire.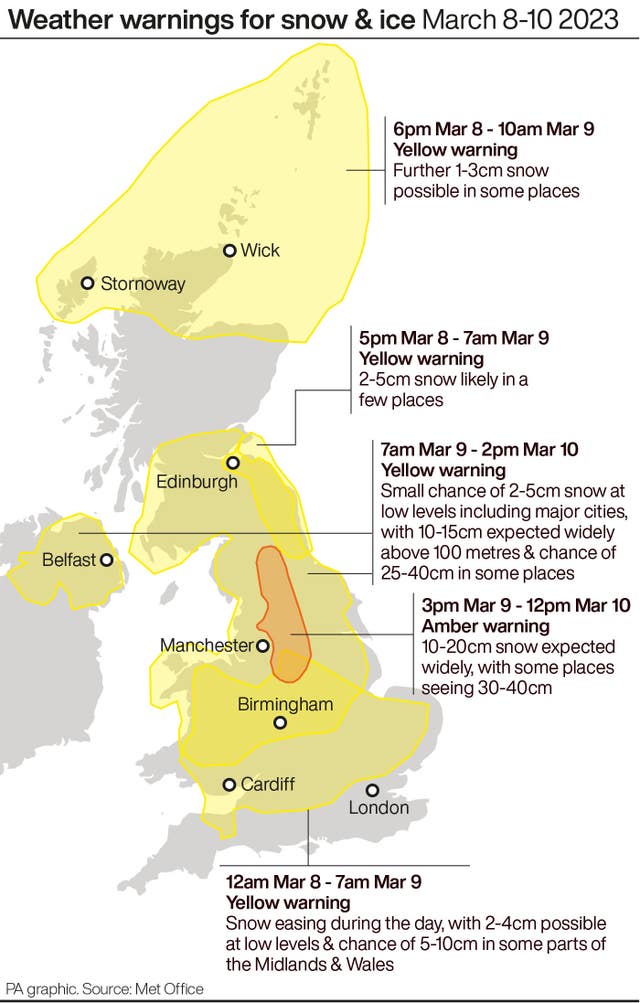 For Thursday, forecasters have predicted daytime temperatures in the low single figures and sub-zero temperatures overnight for much of the UK, with slightly warmer conditions in the south.
The RAC said there have been 50% more breakdowns than usual in the worst affected areas, with some drivers stuck in the snow in parts of South Yorkshire and Wales.
Spokesman Rod Dennis said: "Rural routes through central and northern England covered by the Met Office's amber weather warning are starting to get difficult to negotiate, and these are areas drivers should avoid if they can.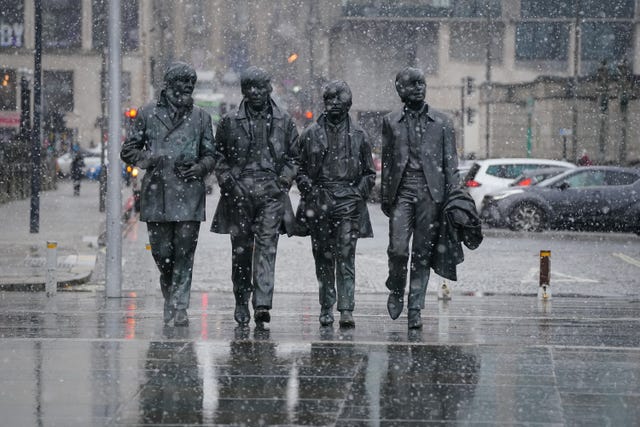 "These aren't conditions anyone wants to be caught out in, so those who have to drive need to be confident on potentially slippery surfaces, have ensured their vehicles are up to the task, and are carrying an emergency breakdown kit so they can stay warm and communicate easily should they get stuck or break down."
A yellow warning for heavy snow covers Northern Ireland, most of Wales, and a large area between Glasgow and Birmingham until 2pm on Friday.
Another yellow warning for snow and ice has been issued for north-eastern Scotland and Stornoway from 5pm on Thursday until 10am on Friday.
Natural Resources Wales has given two similar warnings for the North Wales coast, along with the Lleyn Peninsula and Cardigan Bay coastline.
The Met Office has said an Arctic air mass from the north meeting mild air from the south is causing the turbulent weather over central areas.
Snowy conditions on Wednesday disrupted flights at Gatwick and forced Bristol Airport to close.
Bristol Airport has reopened, but departures are still being delayed by "low visibility and snow disruption" along with French air traffic control strikes, so passengers have been advised to contact their airline before travelling.