Tributes have been paid to the three people killed in a crash that left two others seriously injured.
Eve Smith, 21, Darcy Ross, 21, and Rafel Jeanne, 24, died in the accident while Sophie Russon, 20, and Shane Loughlin, 32, survived but remain in a critical condition, according to police.
All five were in a Volkswagen Tiguan that came off the A48(M) in Cardiff and crashed into trees.
The three women were last seen in Cardiff in the early hours of Saturday having travelled there from Porthcawl. They had earlier been in Newport and were reported missing to Gwent Police.
Tributes have been paid on social media with family members confirming their loved ones had died.
The sister of Eve Smith paid tribute to her in a post on Facebook.
"My beautiful little sister I've cried laughed and fought with you every week, but I've never been without you," she said.
"We always said, 'I got you always' but now I'm sat here feeling so empty because you're not here with me anymore, and I can't accept this.
"I know you're safe up with there with our beautiful sister Xana but I was never ready to let you go, my body is aching without you."
A friend of Miss Ross and Miss Smith wrote: "I don't really have the words right now.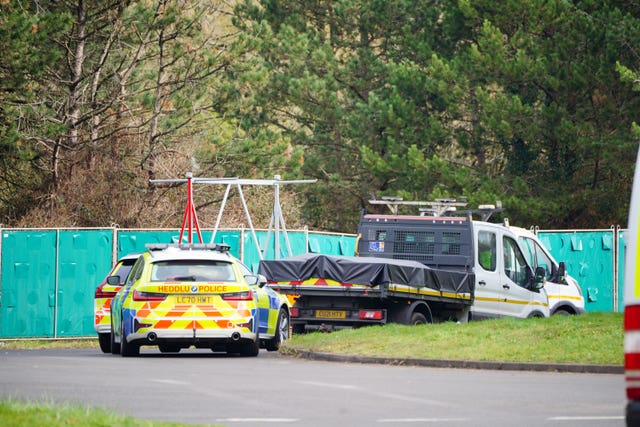 "Eve Smith you were truly a beautiful young girl, who's heart was made of gold just like your sister's, give her a big hug for me and hold each other tight until the day we all have our turn and reunite."
A friend of Mr Loughlin posted: "I'm so proud of us all pulling together out there searching for our dear friends last night.
"It's heart breaking what's happened to Rafel Jeanne and those two girls. My body is still shaking and I can't stop being sick the thought of them all there all of that time.
"Many times I have driven past, it just makes me so sad and to how helpless our Shane Loughlin must of felt trapped inside.
"Wish Sophie a speedy recovery and I send all my love and strength to all the families involved."
The car was discovered shortly after midnight on Monday in the St Mellons area of the capital, South Wales Police said.
It is understood a helicopter searching for the car found it.
Officers believe the car was involved in a road traffic collision and came off the A48(M) but it is not clear exactly when that happened.
The road had been closed in both directions, near to the Cardiff Garden Centre, by the police.
Photographs from the scene show large green fencing and tarpaulin has been erected around the crash site, which is among trees.
People have also started arriving to leave floral tributes to those who died.
One wrote: "Fly high. You're in a better place now. This was a last thing we expected. I know you're still partying up there. Have one for me LOL."
Another said: "RIP Darcy."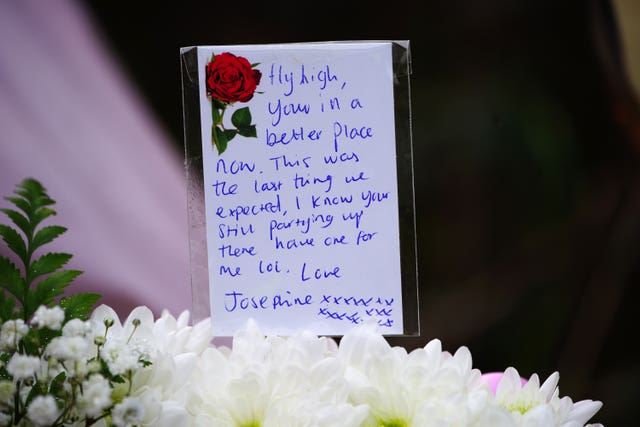 Speaking at the scene, a friend of the three girls claimed it was members of the public searching who found them and not the police.
Tamzin Samuels, 20, said: "I do think the police could have done a lot more in putting the helicopters out earlier.
"They only posted the appeal an hour before the girls were found. We found them before the police found them – we rang the police.
"The search party found the girls before the police found the girls.
"I think that speaks volumes really, they had all that equipment, and we had cars when we were looking.
"They were really popular girls, the life of the party, and it was really out of character for them to do what they did, which is why we knew something was wrong."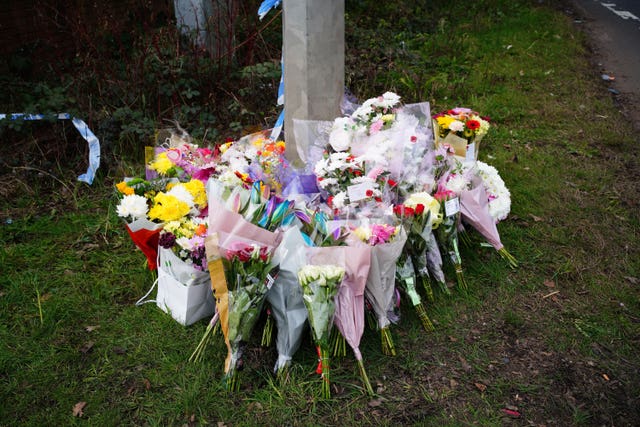 "They were the life of the party. Darcy was known as a wild child, loved life and lived life to the fullest and she didn't care what anyone thought about her. She was great," she said.
"Eve had a smile that could brighten a room as soon as she walked in. A real feisty, independent girl, but everyone loved her just as much.
"I didn't really know the boys and one of our friends who is recovering, we just really hope for her on the road to recovery."
Meanwhile, Thomas Taylor, 47, from the Rumney area of Cardiff, was arrested at the scene to prevent a breach of the peace after being asked to leave the area.
He later told the PA news agency he had been taken to Rumney police station and later released.
"I still don't understand it.
"It worries me, and I feel for the families because from what I can see from the reports they did have a feeling something was wrong and they were flagging it up. Their instincts were correct.
"I have some fears that perhaps when the reports came they had gone missing people (and) thought, 'Oh, it's just a night out'.
"It's natural they might have disappeared for a bit but the families' instincts are right."
South Wales Police (SWP) said on Monday evening that their investigation into the incident is continuing and confirmed the names of the victims.
Both SWP and neighbouring force Gwent Police, who were leading the missing persons investigation prior to the discovery of the car, said they have referred themselves to the Independent Office of Police Conduct (IOPC) "in line with normal procedure".
An IOPC spokesman said: "We can confirm that Gwent Police have advised us that they are making a referral in connection with this tragic incident and we will carry out an assessment in due course to determine what further action may be required from us."