The UK and Irish governments have been challenged to "live up to their responsibilities" and ensure the Stormont Assembly is workable.
The latest political row in Northern Ireland has seen devolved government in flux for the last year while the DUP refuse to participate until their concerns around the Brexit protocol are addressed.
Previously the Assembly was suspended for almost three years from 2017-20 following the resignation of former Sinn Fein deputy First Minister Martin McGuinness.
While the Windsor Framework aimed at tackling unionist concerns around the protocol was signed on Monday, the DUP said it would take time to come to a "collective decision".
Alliance Party leader Naomi Long said whether the DUP decides to return to the Assembly or not, the institutions need to be reformed.
In an interview with the PA news agency ahead of her party conference this weekend, Ms Long said she doubted whether the DUP or Sinn Fein would walk away from government if they thought it would happen in their absence.
"They walk away knowing that it will collapse and if we stop it collapsing we're actually less likely to see people walk away in the first place … I want to see them in government working together and delivering for people collectively, but if that's not going to happen I think we need to at least have to stop people being able to prevent others from doing the job," she said.
In that time, the make up of the Assembly has changed, with the rise of the DUP and Sinn Fein, but also of the centre-ground with Ms Long's party now the third-largest at Stormont.
"I think we need to be honest and say when you look back 25 years ago at the Good Friday Agreement, one of the first things it says in paragraph one of strand one is that it would deliver stable and effective government for the people of Northern Ireland through devolution, and it hasn't done that," she said.
"It hasn't done that for about half the time it's been operating.
"So, I think it's really important that we put a stop to this stop/go nature of government here, that when people are given, as by right as stated in the Good Friday Agreement, the right to be part of government, they can take it or they can leave it. And if they decide to leave it, the Executive goes on without them, and I think that's the way it should be."
Ms Long said the current system of parallel consent where there must be a majority of those MLAs who designate as unionists as well as nationalists means her party's votes, and those of People Before Profit, are diminished.
"That wouldn't be accepted if unionism's votes counted for less or nationalism's votes counted for less, and it isn't acceptable when Alliance's votes count for less.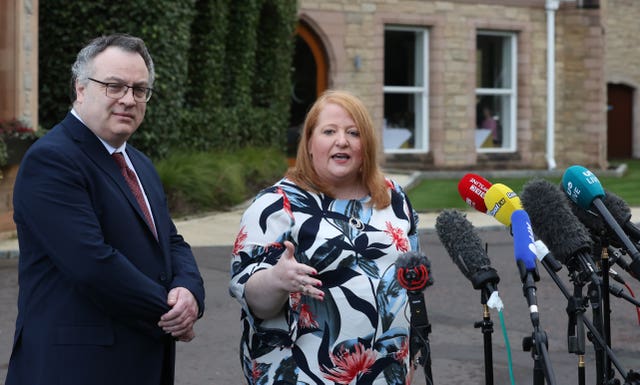 "If you set the weighted majority at around 68-69%, you would ensure that any vote included unionists, nationalists and others, so you couldn't get a majority without all three groups being represented in that vote.
"But it wouldn't necessarily be a majority of unionists or a majority of nationalists on every occasion, and I think that that opens up the opportunity for us to be able to make progress."
Ms Long said her party has been engaging with the SDLP and UUP on reform, but she said the two governments must be involved.
"Ultimately the two governments have to be part of that discussion because they are the co-guarantors of the Good Friday Agreement, and it shouldn't be down to one or two parties to carry the weight of getting this over the line," she said.
"The two governments have a responsibility to make sure that the Good Friday Agreement actually operates in 2023 as it was envisaged it would. It is currently not doing that, and I think by not taking action, they're actually allowing the Good Friday Agreement to become undermined and for confidence in the Good Friday Agreement and its structures to be eroded over time, so I think what they need to do is grasp the mettle and show some leadership on this."
Stormont is set to face major challenges balancing its budget if it returns, but Ms Long said there are opportunities to make a difference.
"It's going to be incredibly challenging. The question is: will we be able to do everything we want to do if we go back into government collectively as parties? The answer to that is no," she said.
"There will be things we will not be able to afford to do, there will be things we would want to do that we have to take in much slower time. Is that a good argument for not having a government? Absolutely not – we have to focus on those things we can do."