Underwater search experts have arrived to help search for missing mother-of-two Nicola Bulley who vanished on a dog walk at a riverside beauty spot.
Peter Faulding, the head of private diving team Specialist Group International, said he had spoken to Paul Ansell, the partner of Miss Bulley, 45, who went missing 10 days ago in St Michael's on Wyre, Lancashire.
Mr Faulding said: "I mean, Paul's extremely distraught.
"I've just spoken to him just now where we're staying.
"It's a very difficult time.
"I'm used to dealing with, you know, families of drowning victims.
"It's a horrible thing to be going through not knowing where your loved one is."
Ms Bulley's family have asked for help after a police search of the River Wyre in Lancashire near where she went missing failed to turn up any trace.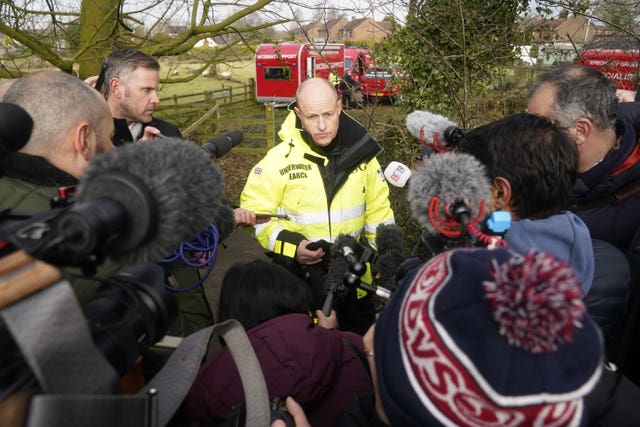 Her phone, still connected to a Teams call for her job as a mortgage adviser, was found on a bench on a steep riverbank overlooking the water, along with the dog lead, with the dog harness on the ground.
Police say they think she fell into the river possibly while dealing with an issue with her springer spaniel Willow.
Mr Faulding, said his team of experts and divers, based in Dorking, Surrey, which assists police forces in the south of England, would search a stretch of the river using specialist underwater sonar equipment, which he said has a "very high hit rate".
Friends of Ms Bulley have questioned the police "theory" that she fell into the river, but Mr Faulding said Lancashire Police were "doing the right thing" and his job was to help them search.
He said: "The clear evidence is the phone was by the river, the harness, dog harness was by the river.
Mr Faulding said his team would use high-tech sonar equipment to send images from underwater to a screen on a search boat.
He would first make a "rapid" search of a section of the river downstream from where Ms Bulley went missing.
He added: "So divers are here, divers will only go in the water if there is a target that needs, I mean, sometimes you can have a target.
"If a person is laying on their side, it can look like something else.
"So, you have to check everything and the beauty of this sonar allows us to actually measure the length of the target."
Mr Faulding added: "If Nicola is in the river, I'm confident that we'll find her.
"If she's not in the river, then obviously we won't find anything but we're going to work our hardest, we'll probably be working under darkness tonight for a while, and that's my intention to help the family.​"