A special bus tour, whose route includes five areas across the country where early diagnosis rates for cancer are among the lowest, is being launched by the NHS.
From Monday to Friday next week, the blue bus will carry teams of NHS staff and Cancer Research UK nurses who will give expert advice to passersby about common cancer signs and symptoms.
The experts, including TV presenter and NHS Dr Dawn Harper at certain points, will also be able to chat about the importance of earlier diagnosis and where people can go for support or further advice.
The first stop will be Blackburn, in Lancashire, before it moves on to Sunderland, Tyne and Wear, Barnsley in South Yorkshire and Leicester and London on February 10.
"Body vigilance is absolutely crucial – if something in your body doesn't feel right, contact your GP practice. The NHS is here and wants to see you."
Cancer survivor Brian Henderson, 66, the father of England and Liverpool footballer Jordan Henderson, is among those who are supporting the awareness drive.
Mr Henderson, who was treated by Sunderland Royal Hospital in 2014 after the disease was found in his tongue, throat and lymph glands, said: "After having cancer twice, I know how important it is to be body vigilant and look out for any changes that could be cancer.
"I am incredibly passionate about encouraging others to not let the thought of cancer play on their minds – it is always better to test, find out and get the treatment you might need.
"I am so happy to still be here to watch my son succeed in his career and live my life to the fullest and am incredibly thankful to the NHS."
Mr Henderson and his football-star son have also raised £85,000 to fund a machine to help with cancer diagnoses.
The bus tour follows awareness campaigns which have seen more people  receive potentially lifesaving NHS cancer checks, with more than 2.8 million people seen last year.
This is  up from 2.35 million in the same period before the pandemic, in 2018/2019.
This was the highest number on record, and up by more than 8,000 in the same period pre-pandemic.
The words "'65 out of 78 passengers on this bus would survive cancer if caught at the earliest stage" will appear on the side of the bus, from Stagecoach, which is backing the campaign.
The figure is based on cancer stage 1 five-year survival statistics.
Professor Peter Johnson, national clinical director for cancer, said: "This bus tour is another example of how we are going further in our ambition to diagnose more cancers at an earlier stage than ever before, by engaging directly with people in their own communities as they are going about their daily routines.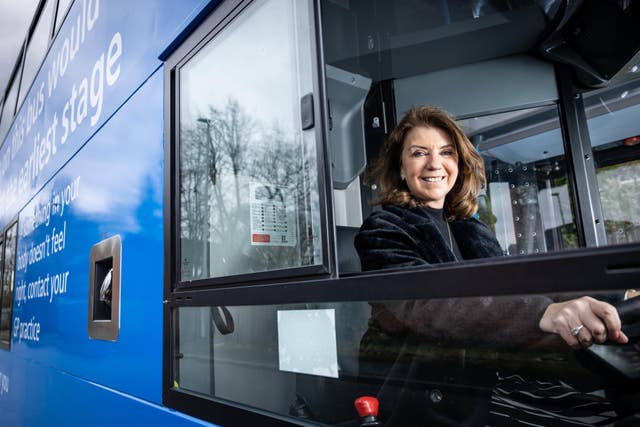 Cancer Research UK's chief executive  Michelle Mitchell said: "With the number of people in the UK diagnosed with cancer set to rise by a third by 2040, awareness campaigns such as this, and the commitment to invest in community diagnostics centres, are important to help ensure more cancers are diagnosed at their earliest stage, when people are more likely to survive their disease."
Health Secretary Steve Barclay said: "More people are surviving cancer than ever before, but we are keen to catch more cancers early as that is the best way to improve patient outcomes.
"We're prioritising early diagnosis and have opened 92 community diagnostic centres that have delivered over 2.8 million tests, scans and checks including to detect cancer.
"It is important that patients do not ignore symptoms in the belief they will simply go away and instead look at information on the NHS website and see their GP if they have symptoms."