The Queen Consort delighted Grenadier Guards soldiers on Tuesday when she visited them for the first time since being appointed as the battalion's colonel.
Camilla became colonel of the celebrated battalion, whose troops are famous for wearing bearskin hats on ceremonial duties, in December 2022.
The senior royal presented medals to 10 soldiers, who had been hand-picked for their exceptional service while deployed in Iraq last year – as well as two loyal soldiers being honoured for length of service, at Lille Barracks in Aldershot, Hampshire.
On arrival, she was greeted by Major General James Bowder, Lieutenant Colonel Gerald Johnson, Major James Gatehouse and Warrant Officer Dean Bailey, before being briefed in private by Lt Col Johnson in the officers' mess on the battalion's recent deployments and plans for the next year.
She then spoke to around 30 officers at a small reception where Lt Col Johnson, the commanding officer, presented a champagne toast to celebrate her first visit.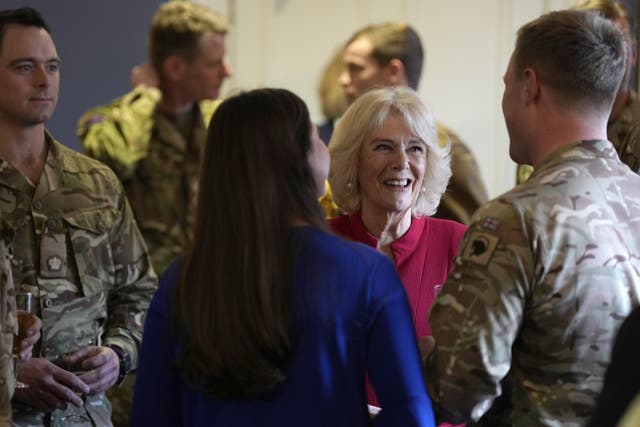 Camilla then posed for a photo on the steps of the officers' mess where she joked with Second Lieutenant Archie Deninson-Smith, 24, who helped recreate a famous photo taken with the late Duke of Edinburgh when he was colonel.
He told PA news agency: "She was just asking if I was okay and then she asked why the two junior officers were on the floor. It was a nod to recreating that picture. We explained why it was."
Earlier, after meeting her in the reception, he told PA: "She was incredibly charming and it was very humbling. She was very interested and engaged, and willing to talk to everyone. We are really, really honoured to have her as our new colonel."
Later, in the sergeants' mess, she presented a Long Service and Good Conduct Medal to Sergeant Scott Howcroft and a medal bar marking an additional 10 years service to Colour Sergeant Colin Fiddy's existing Long Service and Good Conduct Medal.
She then presented operational service medals to 10 officers and soldiers to honour their efforts in Iraq as their proud families and loved ones watched on.
They explained how all troops in the battalion get the medal, but bosses hand-picked the 10 who would be given one by Camilla to mark their outstanding service when they were deployed in the country.
Lance Corporal Jamie McCulloch, 34 – who was one of those given a medal by Camilla, told PA: "It was very special as it is the first time I have met any member of the royal family. She was very friendly and seemed genuinely interested in who we were, and she met my parents which was very kind of her.
"She said 'thank you for what you do', your service and for doing a good job.
"They very kindly put forward people who had done a very good job out there. It was interesting and actually pretty steady in Iraq and we got to see Irbil.
"My parents Gill and Nick seem very proud and are very happy to be here. They were very pleased that Camilla spoke to them and she seemed very interested in where they are from and what they do."
Lt Col Johnson told PA: "She was wonderful and it was a very special moment for us to introduce our new colonel.
"We found out in early January and were excited that she wanted to come and see us so quickly.
"Medallic recognition for service to our people is incredibly important."
The battalion will be extensively involved in the King's coronation as well as continuing with overseas deployments this year.