Pro-independence supporting parties "won't fail" to secure 50% of the vote in Scotland at the next general election, according to the SNP's Westminster leader.
Stephen Flynn wants his party to back a policy of treating the next general election as a "de facto referendum" on Scottish independence following last year's Supreme Court ruling that Edinburgh cannot hold a second referendum without Westminster's consent.
He told PA news agency that, despite Sir Keir Starmer's Labour Party riding high in national opinion polls, he is confident the SNP and other pro-independence parties can secure a majority of the vote.
At the 2015 general election — which took place only eight months after Scots rejected independence — the SNP won 56 seats out of a possible 59 in Scotland.
But despite the near whitewash of constituencies, First Minister Nicola Sturgeon's outfit narrowly missed out on passing the majority vote share mark, taking 49.97% of votes cast.
With the next election due to take place before 2025, the cohort of pro-independence parties has grown, with the Scottish Greens and former SNP leader Alex Salmond's Alba party supporting the push for Scotland to break away from the rest of the UK.
The SNP will decide whether to officially adopt the "de facto referendum" policy at its spring conference in March, but Mr Flynn said he hopes "it is the route we go down".
The Westminster leader said he was "not overly concerned" by Labour's recent polling getting in the way of a pro-independence majority, arguing the Opposition party's stance on independence and Brexit was not a position of strength for winning Scottish votes.
Speaking in his Westminster office, the Aberdeen South MP said: "If Keir Starmer is willing to go into a general election and say to people in Scotland, 'I'm not only going to ignore you on the constitution but also going to ignore you on the European Union', I don't think that's necessarily the best starting point for anyone to win an election or win seats in Scotland.
"So forgive me if I'm not overly concerned with a Labour bounce when they, at this moment in time, are a fairly pale imitation of the Tories when it comes to the biggest issues of the day."
But Mr Flynn, who replaced Ian Blackford as Westminster leader in December, did not deny that the SNP would be open to supporting a minority Labour administration should the next general election produce a hung parliament.
"We're never going to be in a situation where I, nor my colleagues, would seek to put anyone in a situation where they would have to suffer from more Conservative rule," he said.
Labour's Sir Keir has tried to put distance between his party and the SNP.
He is thought to be keen to avoid the Tories being able to use a similar attack line as during the 2015 election, when then-prime minister David Cameron warned of a "coalition of chaos" between Labour and the SNP if Ed Miliband was elected to No 10.
But Ms Sturgeon told Global's News Agents podcast last week that she thought Sir Keir would be "biting the hand off of the SNP leader to try to work together" if no majority materialises.
Mr Flynn said conversations with any prime minister after the next UK poll would come with a push for them to approve Scottish independence.
He continued: "If we fight the next general election as a de facto referendum, and the people of Scotland in excess of 50% vote for independence-supporting parties, on that basis I would be expecting to sit down with a UK prime minister — irrespective of which shade of blue they are, whether that be Keir Starmer or Rishi Sunak — and to say to them: 'The people of Scotland have spoken, you need to now listen'."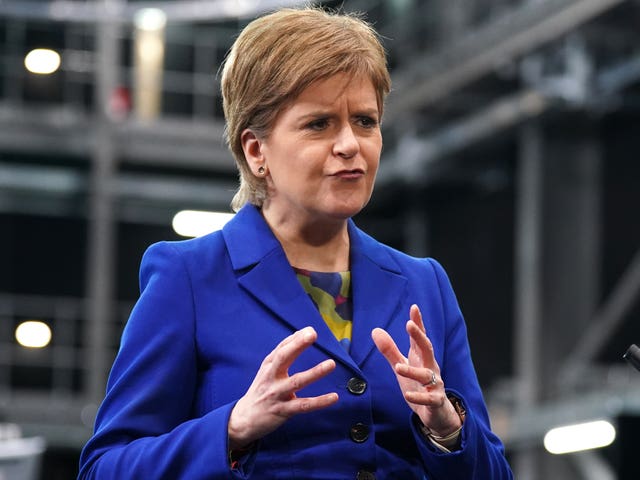 He arrived in Westminster using walking sticks to get around, but a hip operation in 2020 helped ease the "serious discomfort" caused by avascular necrosis – a condition that causes bones to disintegrate due to a lack of bloody supply.
He hopes his own personal story can act as a "chink of light to others that things are possible in life".
His sense of optimism not only stretches to Scotland's chances of independence and coming up trumps in his health battle.
The ardent Dundee United fan — whose office is decorated with scarves and memorabilia declaring his football allegiance — believes his side, who are level on points with bottom-placed Kilmarnock but have played a game less, can survive the drop this season.
In August, the team sacked head coach Jack Ross after the Scottish Premiership side were drummed 9-0 by Celtic, with results steadily improving since the appointment of a new manager, Liam Fox.
Asked whether he thought his team could survive the threat of relegation, Mr Flynn said: "Oh, absolutely."