London's new east-west railway Crossrail will miss its December opening date and services will not begin until autumn next year, a spokesman for the project said.
More time is needed to complete "final infrastructure and extensive testing" to ensure a "safe and reliable railway" is delivered, according to Crossrail Limited.
Services were due to begin running by the end of the year, but the central section between Paddington and Abbey Wood will not be opened until autumn 2019.
Rail minister Jo Johnson announced last month that the scheme's budget has been increased from £14.8 billion to £15.4 billion due to "cost pressures".
The railway is known as Crossrail during the construction phase but will become the Elizabeth line once services begin.
When it is fully opened, trains will run from Reading and Heathrow in the west through 13 miles of new tunnels to Shenfield and Abbey Wood in the east.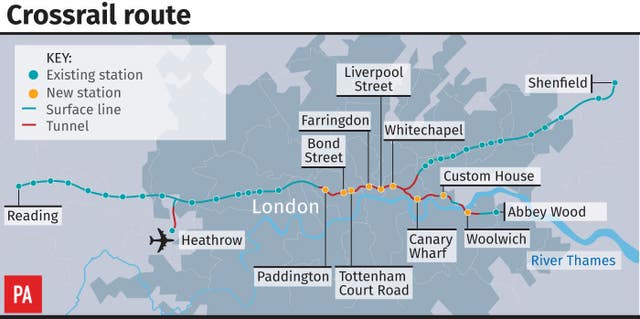 The firm insisted that "the focus remains" on opening the full east-west line "as soon after the central tunnels open as possible".
Simon Wright, Crossrail Limited chief executive, said: "The Elizabeth line is one of the most complex and challenging infrastructure projects ever undertaken in the UK and is now in its final stages.
"We have made huge progress with the delivery of this incredible project but we need further time to complete the testing of the new railway.
"We are working around the clock with our supply chain and Transport for London to complete and commission the Elizabeth line."