A teenager who underwent more than 70 hours of surgery following the Manchester terror attack was given a rousing round of applause after telling a service at Westminster Abbey she owed her life to the doctors and nurses who treated her.
The event, attended by health leaders and NHS staff of the past and present, was one of a series of celebrations taking place to mark 70 years since the health service was founded.
Freya Lewis, 15, who had to learn to walk again after she was caught up in last year's atrocity, told the 2,200-strong congregation: "I don't have the words to express how grateful I am to all the amazing staff who cared for me.
"I'm only alive and here today because of the incredible care I received."
Miss Lewis, who was treated at the Royal Manchester Children's Hospital, attended the Ariana Grande concert with her school friend Nell Jones, who was killed in the blast.
She added: "There wasn't a part of my body that didn't suffer the effects of shrapnel.
"My injuries were like those that you would see on a battlefield.
"This last year has taught me just how important the NHS is to our country. It is unique.
"I know just how lucky I am and I hope this 70 birthday celebration makes other people realise just how important the NHS is."
Dr Martin Griffiths, a leading trauma surgeon who led a team treating victims of the London Bridge terrorist attack, also addressed the service, describing the NHS as "what is the best about Britain".
He said that despite his years of experience: "There is a part of me that still finds it amazing to be a part of this fantastic institution that provides top quality medical care to any citizen that needs it, regardless of their income or background."
"I am particularly privileged to be part of a world-class team that treats those who have suffered traumatic physical injuries," he added.
"My own work has focused on the victims of knife crime. I take no pleasure in noting how the numbers have increased over recent years in our capital.
"I stand with my brothers and sisters who defied the monsters in Manchester and I stand with my friends and colleagues who served London so magnificently at Westminster, London Bridge, Finsbury Park, and of course, Grenfell."
Olive Belfield, 91, who was in the first group of NHS recruits in 1948 also spoke during the service, with her daughter, Rowena Belfield, then describing her experiences as a nurse on her behalf.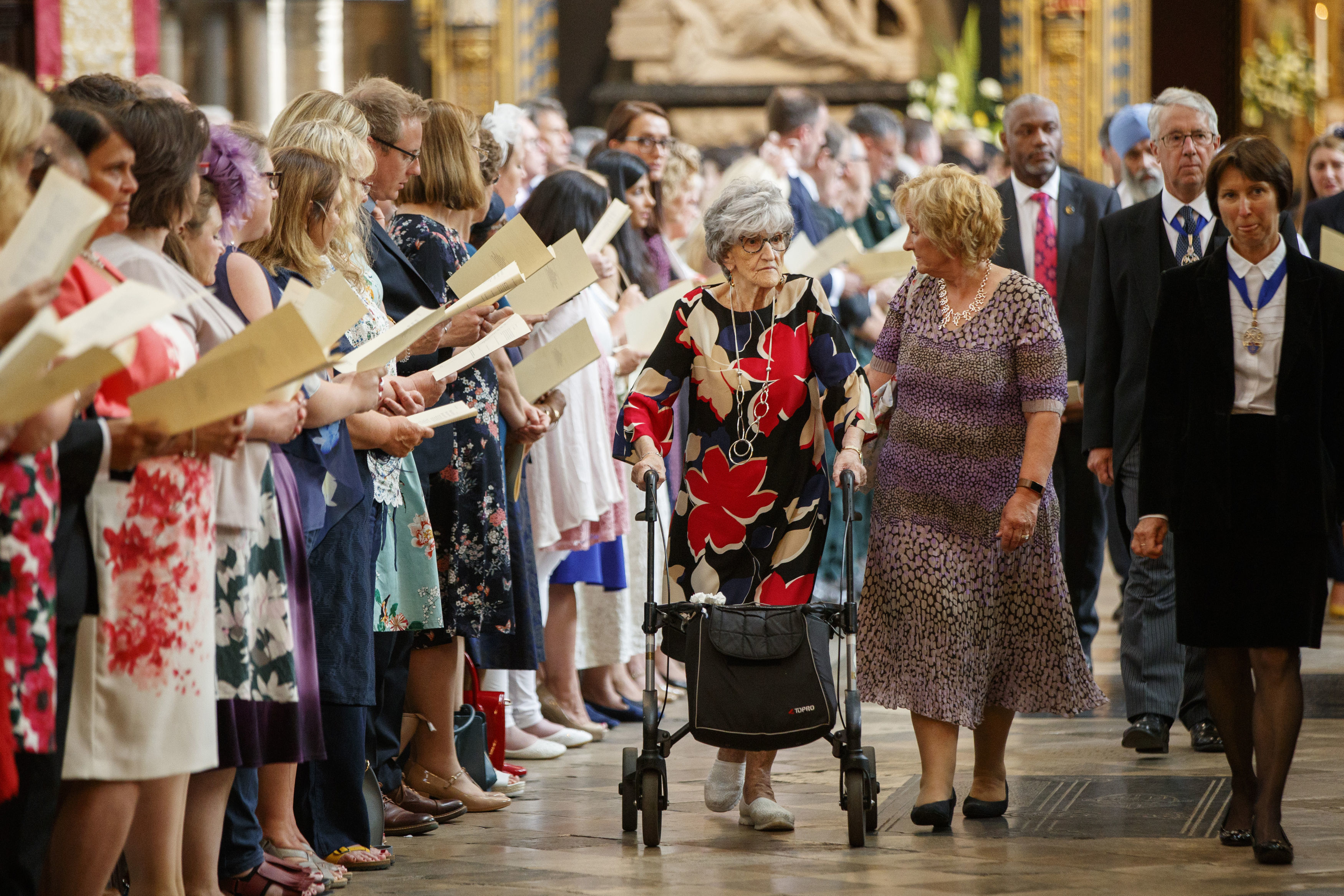 But she said the creation of the health service put an end to this, although money was so tight in the post-war years that nurses even had to re-use bandages at times.
Ms Belfield said her mother worked for the NHS for 37 years until 1985, and it was an "honour" for her to attend the celebratory event 70 years on from when she started.
NHS England chief executive Simon Stevens said to be proud of the NHS is "not to be blind to its imperfections".
He told the service: "Seventy years ago almost to the day, Aneurin Bevan predicted that the health service 'must always be changing, growing and evolving' so that 'it must always appear to be inadequate'."
Paying tribute to its 1.5 million staff, he added: "Today we give thanks – for their service, for their skill, and for their compassion.
"And for their bravery at times of exceptional challenge. Nurses volunteering alongside Ebola patients. Junior doctors with victims of terrorism. Ambulance crews, GPs and therapists at Grenfell.
"And, yes, once again the skill and the bravery of NHS intensive care staff at Salisbury District Hospital – probably the best hospital in the world to be caring for these new victims."
He went on: "To those who fought to bring the NHS to life. To the staff and volunteers who have sustained it ever since. And our families who rely on it, in their troubling times of need.
"All these people are represented here in this Abbey today.
"Because at its best our National Health Service is the practical expression of a shared commitment by the British people.
"We're the nation that has given humanity antibiotics, vaccines, modern nursing, hip replacements, IVF, organ transplants, CT scanners, and breakthrough discoveries from the circulation of blood, to the secrets of DNA, and the promise of the human genome.
"I joined the NHS 30 years ago on its 40th birthday. Many here today have served longer.
"As they look back over their careers they'll have seen amazing advances. New ways of peering inside the body. Far more effective and humane mental health services. New treatments for killer diseases, from tuberculosis, to HIV, to childhood cancers.
"We've also seen radical shifts in public attitudes – on disability, on sexuality, on patient power. Women's control of their own health. Fathers able to be present at the birth of their own children.
"And looking out to the NHS's 80th, and 90th and 100th birthdays, why shouldn't we feel equally optimistic about further advances within our reach."
Health and Social Care Secretary Jeremy Hunt and visually impaired athlete Selina Litt, who has had 20 eye operations on the NHS, both gave readings at the service, which was also attended by the Countess of Wessex, former health secretary Patricia Hewitt, Labour's shadow health secretary Jonathan Ashworth and Chancellor Philip Hammond.