The King and Queen of the Netherlands are to travel to the UK for a state visit in October, Buckingham Palace has announced.
King Willem-Alexander and Queen Maxima will spend two days in the UK after accepting the Queen's invitation to travel to London.
They will stay at Buckingham Palace from October 23-24.
The British royal family are related to many of Europe's royal houses and they have similar ties with Dutch royalty.
The Duchess of Cambridge met King Willem-Alexander when she visited Holland in 2016 for her first solo overseas visit.
Kate, and her husband, the duke, are likely to be among the guests when the Queen hosts the traditional state banquet in honour of the visiting head of state and his wife.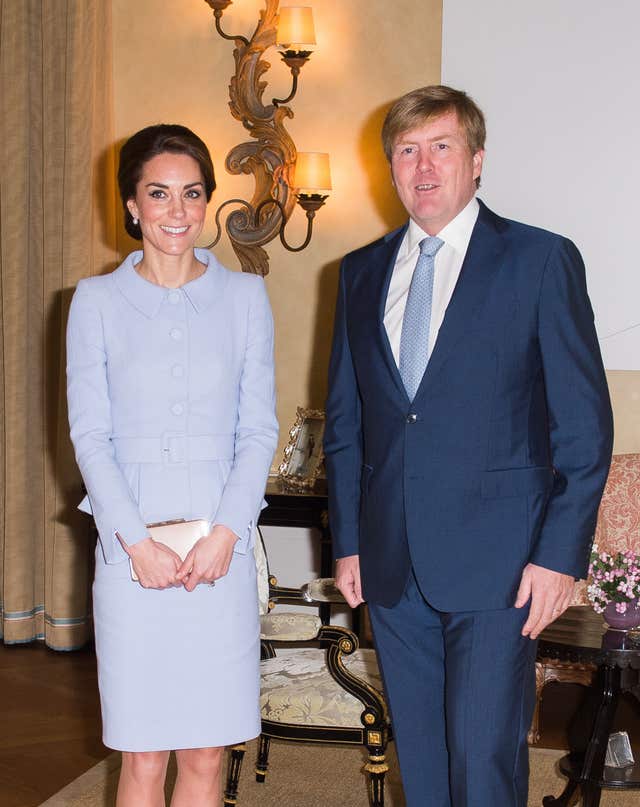 He studied in Wales for a few years in the 1980s and, as a young man, earned a reputation with the Dutch media as a partying royal and was nicknamed the Prince of Pils.
But the then Crown Prince matured into a hard-working, family-orientated man, who married Maxima in 2002, and they now have three daughters, Princesses Amalia, Alexia and Ariane.
In 2013 his mother, Queen Beatrix, abdicated in favour of her son after a 33-year reign.
The planned trip follows a pattern which has been dubbed Brexit diplomacy – where either members of the British royal family visit EU countries or their heads of state travel to the UK, in an apparent bid to strengthen national friendships as the UK leaves the EU.