The Premier League has teamed up with Sky to encourage clubs and fans to stop using single-use plastics as part of efforts to tackle waste.
In a new partnership, the Premier League will follow Sky's example and work to remove single-use plastics from their own operations and supply chains in the next two years.
Premier League clubs will be encouraged to do the same, with guidance and support to phase-out single-use plastics such as straws, cutlery and carrier bags from their stadiums and operations.
Tottenham Hotspur is one of the first clubs to declare its commitment to phasing out single-use plastics, with the help of its new stadium opening next season, pledging to get rid of plastics including straws, stirrers and cutlery.
Its retail outlets will no longer offer 5p plastic bags, the club said.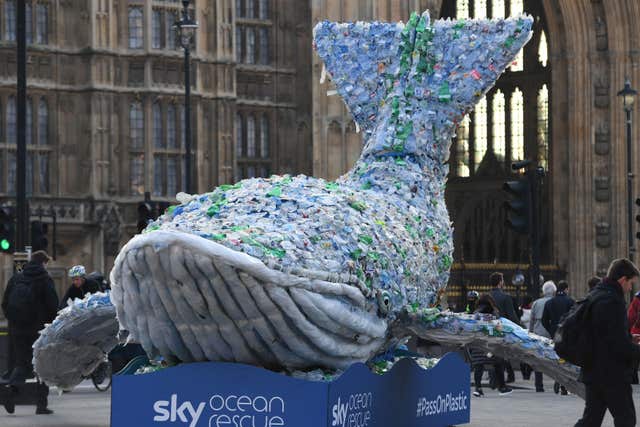 Dozens of businesses have signed up to a "world first" voluntary pact to tackle plastic packaging, cutting it out where it is unnecessary and making sure it is recyclable and recycled.
Sky has been running a campaign highlighting the impact of plastic pollution in the world's seas over the past year, has removed single-use plastic from its operations and launched a £25 million fund to help tackle the problem.
As part of the new partnership Premier League clubs will be supported by "Sky Ocean Rescue Ninjas", a team of consultants who can help businesses reduce plastic, drawing on Sky's experiences.
Sky and the Premier League are also highlighting the importance of making simple everyday changes to help protect the oceans to young fans with a series of education programmes, the organisations said.
"Today we're calling on football fans to make a simple change and join us to help stop our oceans drowning in plastic."
Richard Scudamore, executive chairman, Premier League, added: "As an organisation with a global audience we, and our clubs, are able to encourage people around the world to think and take positive action to reduce their use of plastic."
Tottenham chairman Daniel Levy said: "We are dedicated to minimising the environmental impacts of our activities and are committed to playing our part in reducing single-use plastics across our club operations.
"We shall be encouraging our suppliers, partners and supporters to help us to phase out their use altogether."