TV personality Paddy Doherty has revealed his mother has died of a broken heart following the death of her husband almost a year ago.
Known as Queenie, Elizabeth Doherty suffered a massive heart attack on Monday, just days after a headstone was placed on the grave of her much-loved spouse, Simon.
"She never wanted to live when my father died, and all she wanted was the headstone and it to be up," the 59-year-old told the Press Association.
"That went up and then she started saying 'I am going to go now, I want God to take me, God will take me very shortly', and four days afterwards she died of a massive heart attack.
"She wanted that, she wanted to go."
Married at a very young age and with 17 children between them, he said the family believe that their father was waiting for her on the other side when she died.
He added: "Behind every great man there has to be a great woman… my father, his life was his woman, and her life was him."
Describing her as the "queen of my heart", he said his 76-year-old mother was always smiling, and that you "never saw a frown on her face", with her death leaving the family "heartbroken".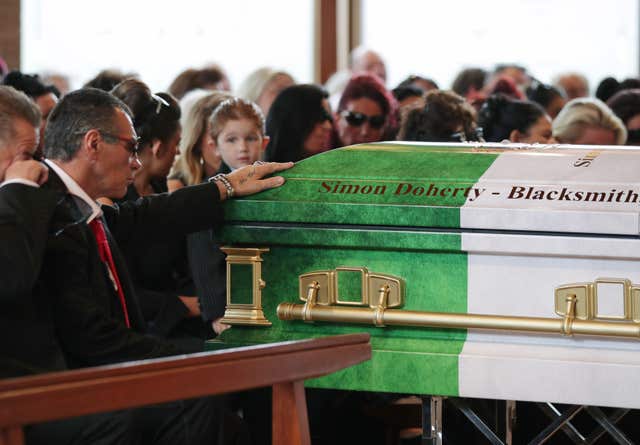 Simon, known as Simey, died last year after battling an illness, his funeral drew hundreds of mourners as he was remembered and celebrated as the "father of all travellers".
The Big Fat Gypsy Wedding star said the funeral for his mother, set to be held on April 21, will be traffic stopping and as big as the send-off organised for his father.
"It is going to be amazing, we celebrate the life they had," he said.
With horse-drawn carriages, a band, and a coffin specially designed and flown in from America, he said everything at her funeral will be "the best of the best".
:: The funeral will take place at St Michael's Catholic Church in Leatherhead, Surrey on April 21 from 10am, before moving on to Kensal Rise Cemetery at around 12pm.